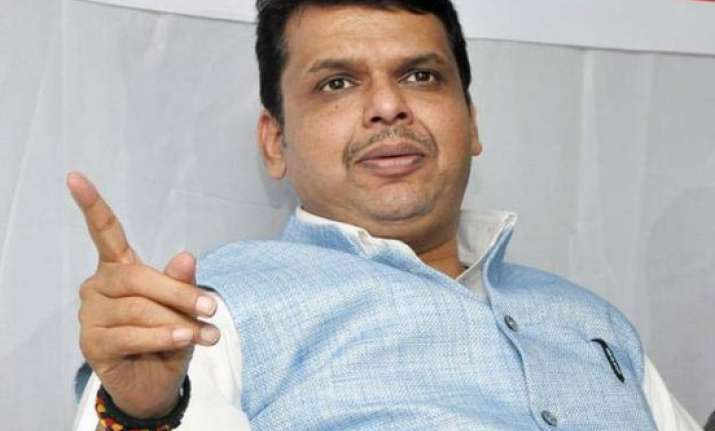 Mumbai:  The Maharashtra Legislative Assembly today saw pandemonium created by opposition members when Opposition Congress-NCP demanded resignation of ministers facing corruption charges.
The ruling BJP-Sena also demanded probe in the multi-crore Annabhau Sathe Corporation scam and arrest of middlemen in the Telgi case. The House saw disruptions twice before being adjourned for the day as Speaker Haribhau Bagde rushed through the day's agenda amid pandemonium.
The Treasury and Opposition members displayed placards and shouted slogans resulting in ruckus.
Earlier, Opposition members gathered on the stairs of the Vidhan Bhavan building and staged a sit-in protest demanding resignation of Education Minister Vinod Tawde over his alleged fake degree, Women and Child Welfare minister Pankaja Munde in the 'chikki' scam as well as Water Supply Minister Babanrao Lonikar and Minister of State for Home, Ranjit Patil against whom allegations have been made.
As soon as the House assembled for the day and Speaker called for the Question Hour, Leader of Opposition, Radhakrishna Vikhe Patil demanded that the adjournment notice regarding the Opposition demand be taken up for discussion.
To counter the Opposition charge, ruling BJP-Sena legislators demanded action against NCP MLA Ramesh Kadam over allegations of siphoning-off funds of Annabhau Sathe Corporation and demanded his arrest.
The ruling party members also displayed placards about arresting middlemen of Abdul Karim Telgi, the main accused in the multi-crore fake stamp paper case following which the House had to be adjourned for 20 minutes.
Later, Vikhe Patil and NCP leader Jayant Patil persisted with the demand for resignation of ministers and criticised Chief Minister Devendra Fadnavis for giving them a clean chit without probe.
They demanded that Fadnavis seek resignations of the ministers and then commence proceedings of the House.
Rejecting the Opposition demand, Fadnavis said his government was open to probe in all allegations. "If you feel that we will bow down to your demand, you
are mistaken," he said.
Hitting out at Congress-NCP, Fadnavis alleged that here was a long list of corruption charges against Congress-NCP leaders. "These people are trying to teach us about corruption. We are a transparent government and doing our work in a clean manner.
Procurements through rate contract was done since your government and now you want to target someone. Those involved in Adarsh scam have no right to speak on corruption," he said.
Tawde also rejected charges against him while Housing Minister Prakash Mehta said if probe is ordered into functioning of the previous government, all the Opposition members would be exposed and would need to resign as MLAs.
To which Jayant Patil dared the government to order a probe. "Jayant Patil and Prithviraj Chavan could study abroad because their fathers were rich. My father was a clerk in Mhada and still he could educate him. Is that why you are making fun of me," Tawde asked.
In the ruckus, Speaker took up the Question Hour, three calling attention notices, bills to accord official language status to Marathi and Maharashtra Regional and Town Planning Act amendment Bill.