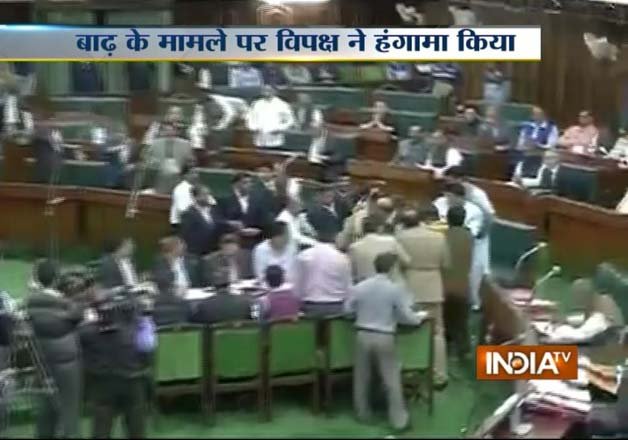 Srinagar: The Jammu and Kashmir Assembly today witnessed uproar over ongoing flood relief operations in the Valley. 
The opposition led by the National Conference, Congress accused the government of providing very little relief to those affected.
Opposition lawmakers also raised slogans against the PDP-BJP government. 
The protesting lawmakers later marshalled out of the House.
So far, 18 people have been killed in the floods that hit Jammu and Kashmir on Sunday.
Sixteen members of two families were buried alive on Monday as landslide swept their homes in Laden village of Badgam district, 40 km from Srinagar city. Bodies of four women, a man and an infant, have so far been recovered from the debris and efforts are on to recover other bodies believed to be buried under it.
Two youth were washed away in swollen mountain streams in Udhampur district of Jammu region on Monday. 
The authorities on Wednesday allowed one-way light vehicular traffic on the strategic Jammu-Srinagar road.
The water level in Jhelum and other major rivers has dropped much below the danger mark on Wednesday, but the forecast of a fresh spell of rain and snow has left the people here worried.