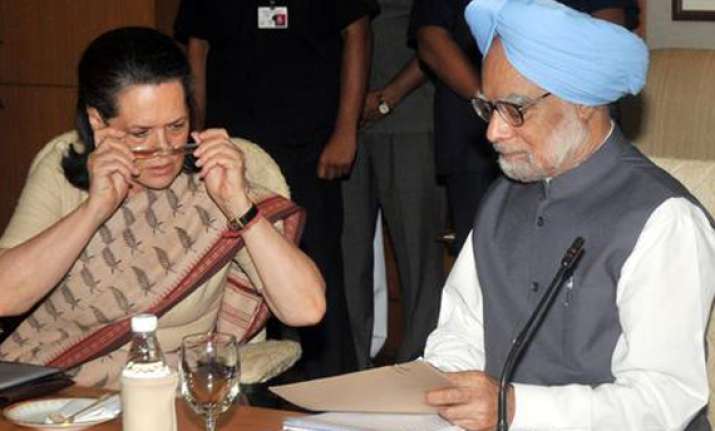 New Delhi, Jun 1: UPA will decide its strategy on Monday on the ambitious food security bill amid talk of a special session of Parliament.
It was made known after Congress top brass including Prime Minister Manmohan Singh and party Chief Sonia Gandhi at an over three-hour-long meeting here discussed the options of calling a special session or taking the ordinance route in the wake of opposition's "uncooperative" attitude.
Other matters like the issue of government formation in Jharkhand are also expected to come up at the meeting of the UPA Coordination Committee, the first after the just concluded ninth anniversary of the alliance.
Recently the UPA ally NCP had said that such an immediate interaction was the need of the hour.
The meeting will provide an opportunity to the Congress top brass to understand the mind of the allies on the Food Security bill and the Land Acquisition Bill which are being seen as a gamechanger by the Congress as it braces for the next Lok Sabha elections.
In the Core Group meeting today, it was decided that Parliamentary Affairs Minister Kamal Nath will speak to other political parties and if they agree, a special session may be convened to take up the bill, sources said.
Otherwise the government may decide to bring out an ordinance on the food bill, a key commitment of the UPA.
The meeting took place a day after Prime Minister Manmohan Singh accused the Opposition of playing "obstructionist" role in Parliament and made a fresh appeal to the political parties to help the government clear important legislation.
Home Minister Sushil Kumar Shinde, who has returned from Chhatisgarh visit, briefed the party leadership in detail about the May 25 Bastar Maoist attack and the measures taken by the government in the aftermath.