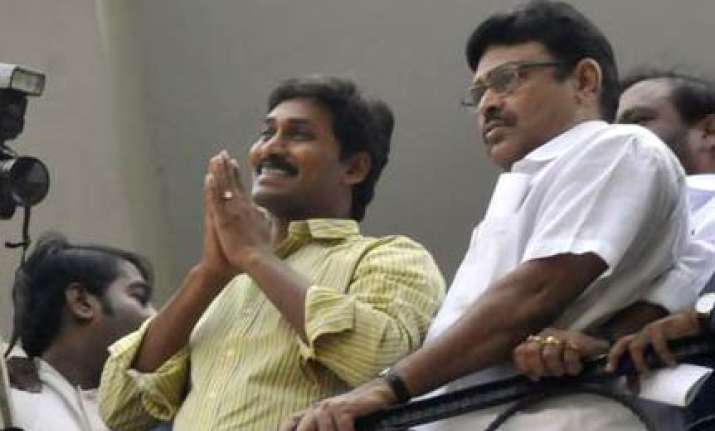 Kadapa (AP), Nov 30: In a jolt to former Congress MP Jagan Mohan Reddy, his uncle and MLC Y S Vivekananda Reddy today said he will remain a Congressman forever and that he is ready to contest the bypolls for the seats vacated by Jagan and his mother.
"I will remain a Congressman till my last breath. I am a loyal and disciplined Congress worker," he told reporters here.
Strongly condemning the allegation made by Jagan in his letter to AICC president
Sonia Gandhi
that the Congress high command tried to engineer a split in the family by offering him a cabinet berth, Vivekananda Reddy made it clear that he went to Delhi and sought audience with Sonia on his own.
Vivekananda Reddy's assertion came after a brief meeting he had with Jagan at the family estate at Idupulapaya in Kadapa district earlier in the day.
The meeting was reportedly held at the behest of some family members who wanted to broker peace between Jagan and his uncle in the wake of the bad blood between the two.
The meeting is understood to have ended with bitterness as Jagan was angry with his uncle's comments that he would make Jagan express regrets for his criticism against Sonia.
Vivekananda Reddy disclosed that he had a lengthy meeting with Sonia in Delhi during which he got clarifications on many issues.
Reddy also said he met party leaders like Ghulam Nabi Azad, Veerppa Moily and Ahmed Patel in New Delhi on his own.
Showering praise on Sonia, he said the Congress high command has never tried to split the YS family and that there is no need for them to do so.
"If aspiring for a Cabinet berth is my mistake, I seek apology," he said, adding that he will remain a Congress worker if the party does not make him a minister.
Praising Sonia for sacrificing the post of Prime Minister, he said she is a great leader like Mahatma Gandhi and Mother Teresa.
To a query, he said he will have all the love for Jagan as his brother's son but will continue in Congress.
Vivekananda Reddy said he wanted to take Jagan to Sonia to bridge the differences but, unfortunately, Jagan chose to resign. PTI