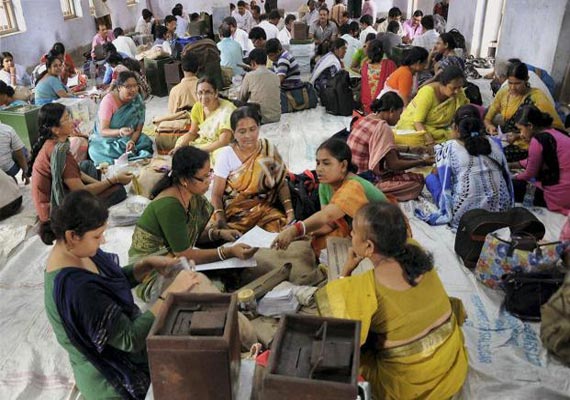 Kolkata, Jul 29: The ruling Trinamool Congress led by West Bengal chief minister Mamata Banerjee today forged ahead in a big manner in the panchayat elections, capturing 628 panchayats, with the Left Front trailing in 281, and the Congress in 176 panchayats, till reports trickled in around afternoon.
BJP won in four panchayats, while other parties won in 8 panchayats, reports said.
In Maoist-hit West Midnapore's Sainthia, all the nine gram panchayats were captured by TMC candidates, while in Keshpur, Gadbeta and Narayangarh, all the panchayats went to TMC.
Trinamool candidates won in 9 panchayats on Bhangar-1 blockl.  
In CPI(M) strongman Abdul Rezzak Mollah's Canning constituency, Trinamool candidates captured 9 panchayats, leaving one to CPI(M).  In Bhangar-2, all the ten panchayats were won by Trinamool candidates.
In North Bengal's Coochebehar district, Trinamool cnaiddates won 5 panchayats in Sitai, and 9 in Toofanganj.  In Coochbehar's Haldibari, the Left Front candidates won four panchayats.