1. The rise and fall of Arvind Kejriwal and AAP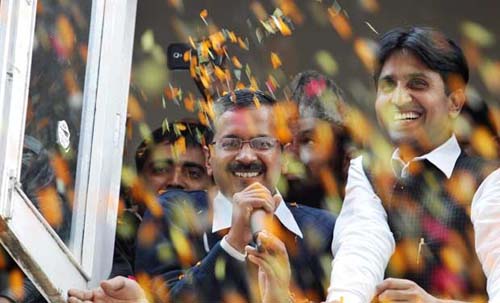 By 28th December, 2013, Kejriwal's Aam Admi Party was barely a year old when it made a spectacular electoral debut in Delhi and won 28 of the state's 70 seats, just four behind the BJP. In a mega political bender Arvind Kejriwal defeated three-time chief minister Sheila Dikshit in her constituency of New Delhi by 22,000 votes.
The newly elected government was sworn-in on this day. Kejriwal was popular as the Chief Minister. His 'aam admi schemes' received ovation from the Delhiites. But with time, this newbie party realized or should have realized that governance was not a piece of cake. He witnessed rebellion from his own party members and Vinod Binny was expelled from the party.
On January 20, 2014, Kejriwal and his ministers staged protests at Rail Bhavan against the Union Government Home Ministry. These came after his Law Minister, Somnath Bharti, had been dissatisfied with the response from the Delhi police to allegations relating to a neighbourhood popular with immigrants from Uganda and Nigeria.
In February 2014, the AAP tried to introduce a Jan Lokpal Bill in the Delhi Assembly as this was the main agenda of the party. The BJP and Congress prevented them from tabling it, and thus on February 14, AAP government resigned. Kejriwal alleged that there was a nexus among Congress, BJP and the industrialist Mukesh Ambani as he had filed an FIR against the latter.
In March, the party sought re-elections. Arvind Kejriwal's decision was criticized by his fans. He is now remembered as the CM of 49 days' or AK 49 (A name given by Narendra Modi during his election rallies).
AAP then contested the Lok Sabha Polls too but met with a crashing defeat. The party fielded 434 candidates out of which only four candidates won the elections (all from Punjab).
Now the party is all set to re-contest Assembly polls in the National Capital - which has been under President's rule since Kejriwal's government abandoned it. Those polls are likely to be held early next year.