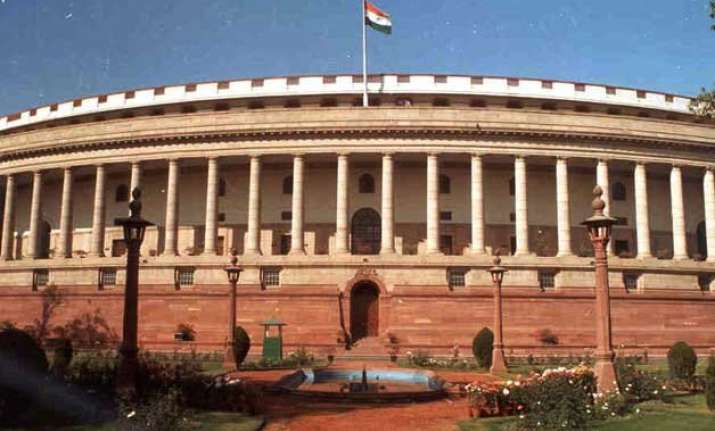 New Delhi:  To end the impasse in parliament, the government is planning to bring out next week its trump card - two pending bills related to the empowerment and reservation for the Scheduled Castes and the Scheduled Tribes, something which the opposition will not be able to ignore.
The strategists for the government are of the view that this move will not only divide the opposition but also help in securing Dalit support in Bihar, where the assembly elections are due this year.
Sources said the government is planning to bring the bills - the Constitution (117th Amendment) Bill, 2012, that aims to provide quota in promotions and the Scheduled Castes/Scheduled Tribes (Prevention of Atrocities Act), 1989, next week.
According to sources, Prime Minister Narendra Modi has directed Finance Minister Arun Jaitley, Parliamentary Affairs Minister M. Venkaiah Naidu and Home Minister Rajnath Singh to arrive at a consensus on these long-pending bills after discussing the issue with the party's SC/ST parliamentarians.
The 117th Constitution Amendment Bill providing for quota for the SCs and STs in government job promotions was passed by the Rajya Sabha in 2012, when the Congress-led UPA was in power. However, it could not be passed by the Lok Sabha as the Samjawadi Party opposed it.
Sources said that a Rajya Sabha member from Maharashtra, Amar Shankar Sable, recently gave a presentation on the amendment bill to Prime Minister Modi. Impressed by the presentation, Modi directed Naidu to hold discussions with Jaitley and Rajnath on the bill.
The three leaders were expected to hold a meeting on Friday but it was cancelled at the last minute. Sources said they will soon hold discussions on the subject.
The party's chief whip in the Lok Sabha, Arjun Ram Meghwal has also been asked to convene a meeting of SC/ST parliamentarians to know their views on these bills.
"If the government comes up with these bills, it will not be easy for the Congress, Bahujan Samaj Party and other parties to disrupt the proceeding of the house. If they choose to continue with their disruptions, the BJP will be in a position to term their move 'anti-Dalit'," a senior BJP leader told IANS on the condition of anonymity.
The Congress and the BSP have been supportive of these bills.
On Friday too, both houses of parliament were disrupted for the fourth consecutive day, washing out the first week of the monsoon session without transacting any major business.
The opposition is demanding the resignations of External Affairs Minister Sushma Swaraj and Rajasthan Chief Minister Vasundhara Raje for helping former Indian Premier League chief Lalit Modi, and of Madhya Pradesh Chief Minister Shivraj Singh Chouhan over the Vyapam scam issue.
The Congress, BSP and Left parties are vocal in demanding the resignations of the three BJP leaders.
However, the government, refusing to budge, has instead levelled corruption charges against Congress' chief ministers in Uttarakhand and Himachal Pradesh - Harish Rawat and Virbhadra Singh