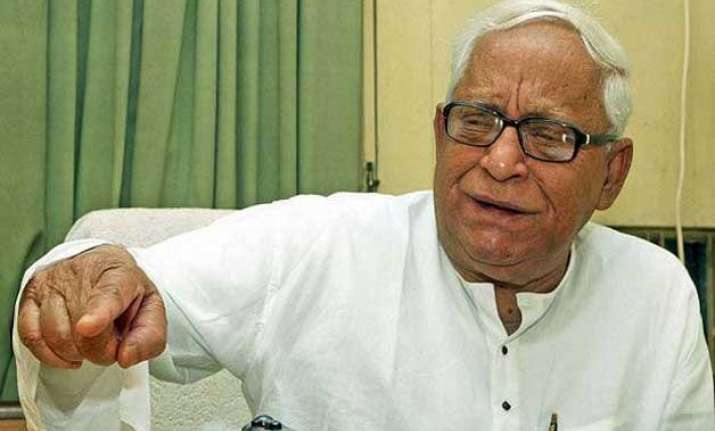 Kolkata: Lashing out at Trinamool Congress over alleged involvement of its several leaders in Saradha scam, CPI-M Politburo member Buddhadeb Bhattacharjee today said the TMC regime has no moral right to continue in office in the wake of the arrest of some of them.  
"We all know the kind of involvement their leaders have in the scam. It has never happened in the political history of Bengal that a minister has been sent to jail on charges of corruption while in office," Bhattacharjee, the former chief minister of the state, said in a programme of CPI-M mouth piece "Ganashakti".
"The TMC regime is neck deep in corruption. It has no moral right to continue. In the last three and a half years of its rule the party has pushed the state 10 years behind compared to the development in other states. No new industry - whether heavy, medium or small scale, have come up in the state," he said.
A city court had yesterday rejected the bail plea of West Bengal Transport Minister Madan Mitra and remanded him to judicial custody till January 16 even as he claimed innocence saying he was ready to be hanged if found guilty in the Saradha scam.
TMC MPs Srinjoy Bose and Kunal Ghosh too are behind the bars for their alleged involvement in the scam.  Referring to the rise of BJP in the state, Bhattacharjee said West Bengal can never be a breeding ground of communal elements. "Bengal has the history of ushering in Renaissance." He however conceded that a certain section of Left workers had joined BJP.
"It is true that some sections of party supporters who couldn't stand the onslaught of TMC regime changed sides to BJP. But their heart still lies with the Left," Bhattacharjee said.