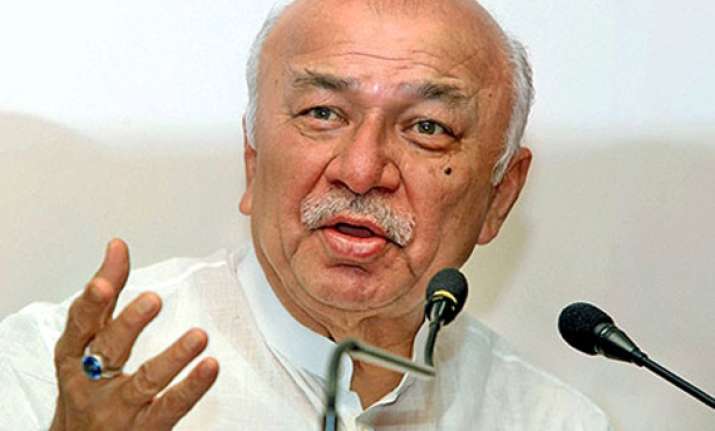 New Delhi, Dec 28: The much-awaited decision on Telangana issue will be taken within a month, Home Minister Sushilkumar Shinde announced today. 
Shinde said he has heard "carefully" the opinions of eight political parties of Andhra Pradesh at a meeting held here today where their representatives suggested that a decision on Telangana should come as early as possible. 
"I have heard carefully from all the parties. I will brief the government on the outcome of the meeting and within one month we will come out with a result. Within one month, there will be a decision," he said at a press conference after the all-party meeting.
Two representatives each from Congress, BJP, Telangana Rashtra Samithi (TRS), CPI, CPI(M), Telugu Desam Party, All India Majlis-e-Ittehadul Muslimeen and YSR Congress attended the meeting held at North Block.
However, TRS chief K Chandrashekar Rao, the political face of the Telangana separate statehood agitation for the past few years, termed the meeting as a "futile exercise" and announced a Telangana bandh tomorrow to protest against the government's attitude towards the demand for a separate state.  Rao said he was just "not satisfied" with the Centre's announcement that a decision will be taken in a month's time.  
The Home Minister said he understood that people of Andhra Pradesh have been facing problem for past several years due to the ongoing agitation demanding a separate Telangana and appealed to the youth of the state to remain peaceful. 
"I appeal to the youth to remain peaceful. There will be a result. The government will take a decision. It is taking decision and it will be a good decision," he said.  
Refusing to disclose details of what transpired in the meeting, Shinde said it was an "in-camera hearing" and the final decision will be taken on the basis of the opinions expressed in the meeting.
He said this was the last all-party meeting held on the Telangana issue and that he was fully satisfied with its outcome. "It was a very cordial meeting. Everyone expressed their views," he said.