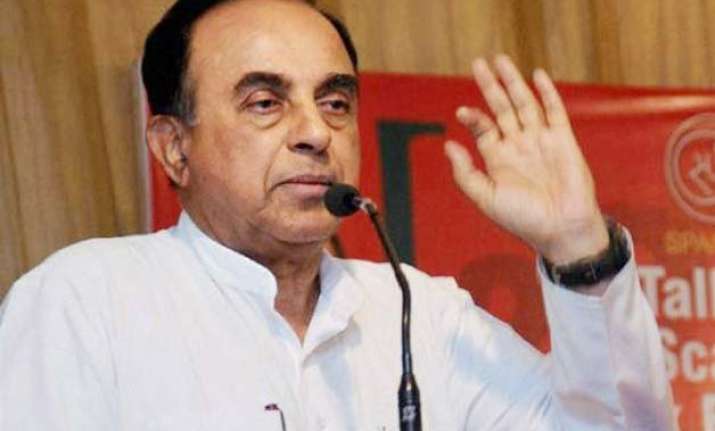 Guwahati: BJP leader Subramanian Swamy has stoked a controversy with his reported remark that mosques and churches are mere buildings and can be demolished following which a First Information Report or FIR was lodged against him and the Assam government Sunday threatened to ban his entry to the state.
Mr Swamy, who was on a personal visit to attend an event of a university in the state last week, had reportedly said that mosques and churches are mere "buildings" to offer prayers.
"So there is no problem in demolishing them. They demolish mosques even in Saudi Arabia," he had said.
He further said that God lives only in temples.
Various organisations and parties have condemned the remarks of the BJP leader.
"His comments are completely insulting for a community. We will take action. If he continues to talk like this, we will ban his entry into Assam," Chief Minister Tarun Gogoi said.
He wondered why the BJP was not taking any action against Mr Swamy in spite of "controversial comments" made by him.
Meanwhile, Assam Police has registered an FIR against Mr Swamy at Latasil police station in Guwahati under sections 120(B) (criminal conspiracy), 298 (Uttering, words, etc., with deliberate intent to wound the religious feelings of any person), 153(A) (Promoting enmity between different groups on grounds of religion, race, place of birth, residence, language) of IPC on a complaint by Chatra Mukti Sangram Samiti, students wing of Krishak Mukti Sangram Samiti or KMSS.
KMSS has also demanded immediate ban on Mr Swamy's entry into the state "so that there is no communal tension in Assam".
The BJP sought to distance itself from the comments saying they were made in his "personal capacity".
"We will have a talk with him on the matter. These comments, which I have not seen, must be made by him in his personal capacity. This is not the party's stand," Union minister Prakash Javadekar said in Mumbai.
Mr Bhattacharya also said Mr Swamy's comments are "his personal views and the party does not endorse them".
Mr Swamy had further said that there was no need to get emotional over giving a portion of land to Bangladesh under the Land Boundary Agreement.
"If the Assamese people are so sentimental about the issue, then they should sit back at their homes and shed tears," he had reportedly said.