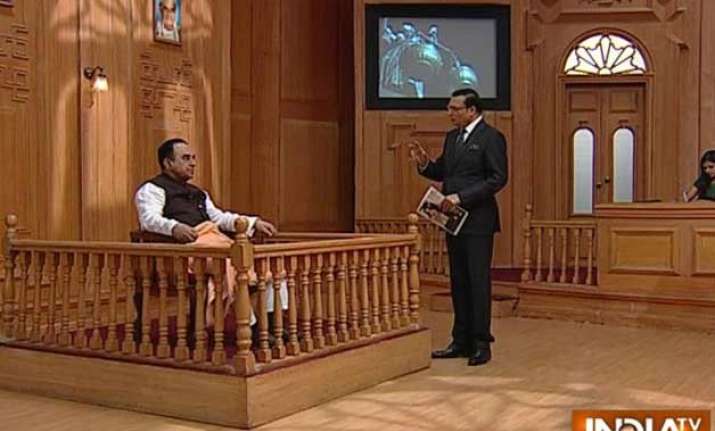 New Delhi: BJP leader Dr Subramanian Swamy has said, he was hopeful about the Supreme Court giving its judgement in Ayodhya case by August this year, and the construction of Ram Temple will begin by the end of this year.
Replying to questions from Rajat Sharma in the show Aap Ki Adalat, to be telecast tonight at 10 pm on India TV, Dr Swamy said he had sought day-to-day hearing from the Supreme Court in this case as it has been lingering since long.
"I am confident the Supreme Court will give its judgement in our favour by August this year. I am hopeful the Muslim community will accept the judgement. We will begin construction of Ram Temple by this year-end".
On his recent controversial "offer" to Muslims to accept the demand for temples at the disputed places in Ayodhya, Kashi and Mathura, and keep 39,997 mosques, Swamy said, "We have compiled a list of 40,000 mosques which had been built after demolishing Hindu temples, and I decided to offer a package similar to what Lord Krishna offered to Duryodhana - to keep the capital and give at least five villages to the Pandavas. But Duryodhana declined and the Mahabharata took place."
Asked by Rajat Sharma whether this was a threat to Muslims, Dr Swamy replied: "I am not threatening. I am fully confident that the Muslim community will accept this. The only thing they want is those who seek these temples, should be sincere at heart. I am sincere, and everybody knows that."
On another question whether he was trying to teach a lesson to Muslims, Dr Swamy said: "No, Muslims are okay. They should only accept one thing - that their ancestors were Hindus."
Dr Swamy called for "revenge" against Pakistan by "dismembering it into four pieces".
He said the raids on Jaish-e-Mohammed offices "have been announced by the media only, and it should not be taken seriously.
The Jaish chief Maulana Masood Azhar should be arrested and handed over to India, as he is an accused here in several cases."
"I have no objection to Modi having tea with Nawaz Sharif, but we should not go beyond that. Nawaz Sharif's words carry no weight, as he is acting as a puppet (for the army). We should clearly tell Pakistan that if another such attack occurs, we will cut your country into four pieces."
On the National Herald case, in which he is a petitioner, Swamy said, "I am confident both Sonia and Rahul Gandhi will be held guilty, and as per law, they will have to go to jail. Rahul is illiterate. He does not know anything about law. He is not granting us a favour by saying that if found guilty, he is ready to go to jail."
"They (both Sonia and Rahul) have committed a crime, and it is my duty to see that they should spend time inside jail", said Swamy.
Asked how the transfer of ownership of Associated Journals Ltd to a Section 25 company Young Indian could be considered a crime, when neither Sonia nor Rahul earned any money out of it, Swamy replied: "If I steal your Mercedes car and put it inside my garage, and then say I haven't earned any thing, what sort of logic is this? They have become owners of Rs 2000 crore worth property."
On the Centre granting him Z plus security and a bungalow in Lutyens Zone, Dr Swamy clarified that he was first given Z Plus security during former PM Narasimha Rao's regime, which continued during Devegowda and Gujral regimes. "But Vajpayee withdrew my security, the situation remained the same during Manmohan Singh's regime. Now, Narendra Modi has provided me security, and by doing so, he has corrected an act of injustice."
Swamy said, he was under threat from LTTE because of which he was given Z Plus security. "I do not know if the threat persists. Only the Home Ministry can assess."
Asked by Rajat Sharma whether he was unhappy about not being made a minister, Swamy replied : "I was not made a minister, but did you find any disappointment in my words? I was not made a minister, nor did I become an MP, but I fully contributed to the making of this government by working with RSS and VHP. I am not disappointed."
On the controversy over historic monument Taj Mahal being claimed by certain sections as Tejomahalaya ,Dr Swami said " would take up this issue next year. I had visited Taj mahal in 1977 and wanted to visit the basement which was locked.I was asked by then Prime minister Murarji Desai why i was interested in this matter ,since i was an economist i told him that i am a member of Parliament too, i wanted to know the truth but Desai Govt refused at that time & fell after a few months "
Rajat Sharma's Aap Ki Adalat show featuring Dr Subramanian Swamy will be telecast tonight at 10 pm on India TV. The repeat telecast will take place on Sunday Jan 17 at 10 am and 10 pm.