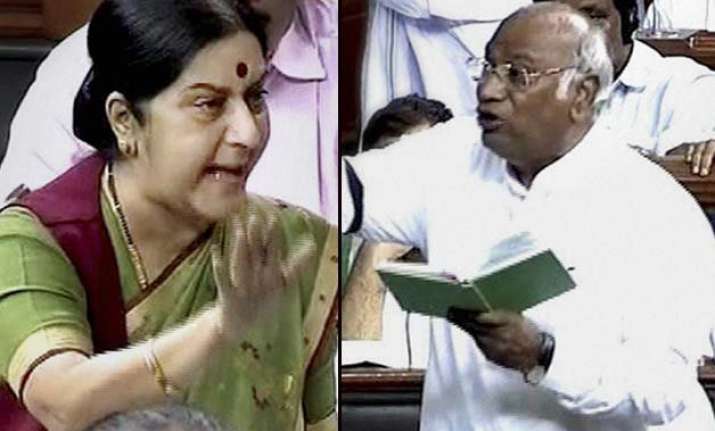 New Delhi: For almost three weeks, Parliament had been paralysed due to ruckus created by opposition Congress over Lalitgate involving External Affairs Minister Sushma Swaraj.
Today, a discussion on the issue of Swaraj helping disgraced IPL boss Lalit Modi to get his travel papers was held in Lok Sabha. The discussion was held under an adjournment motion as demanded by the Congress and was opened by senior party leader Mallikarjun Kharge.
Kharge put seven hard questions to Swaraj and she came up with a spirited reply to all the charges.
Let's have a look at the seven questions put up by Kharge:
1. Why did Sushma Swaaraj not insist that Lalit Modi must return to India?
2. If Swaraj wanted to help Lalit Modi on humanitarian grounds, why did she not recommend him to apply for the same to Indian High Commission in UK?
3. Why did Sushma feel that Indian citizen Lalit Modi should have UK travel documents and not Indian travel documents?
4. Why did Sushma not assert that Lalit Modi should first return to India and should be given travel documents on this condition?
5. Who took the decision to not appeal against issuing of passport to Lalit Modi? Why was there a silence?
6. Was ED consulted on the issue? Who took the decision to issue a fresh passport to Lalit Modi?
7. Lalit Modi has alleged threat to life. Can Indian government not protect an Indian citizen who has been sought by ED?
Here is the reply given by Sushma Swaraj to these questions:
1- I have done nothing wrong
Sushma Swaraj refuted all allegations against her and reiterated that she only helped Lalit Modi on humanitarian grounds.
2- No financial transaction between my family and Lalit Modi
My husband and daughter did not  take even a single rupee from Lalit Modi for representing him in this case.  
3- Lalit Modi was not a fugitive or absconder
No authority or court had declared Lait Modi an absconder or fugitive
4- No action by ED during UPA rule
Enforcement Directorate did not take any action against Lalit Modi during UPA rule for four years.
5. Rajiv Gandhi let Bhopal gas tragedy accused Warren Anderson escape
Rajiv Gandhi exchanged Warren Anderson for his friend Adil Shaharyar who was jailed for 35 years in US. She said that then Madhya Pradesh Chief Minister Arjun Singh himself has written about this in his biography.
6- Chidambaram was involved in conflict of interest
I did not have any conflict of interest in Lalit Modi case but P Chidambaram as Finance Minsiter had. His wife Nalini Chidambaram took Rs 1 crore as fee from the Saradha Group.
7- Rahul Gandhi should read his family history
Congress vice-president Rahul Gandhi likes to take leave, why don't he read his family's history the next time he is on leave.
8- Rahul Gandhi should ask his mother how much money did she get from Quattrocchi
Rahul Gandhi asked me how much money I took from Lalit Modi, but he should ask his mother Sonia Gandhi first how much money she got from Bofors accused Quattrocchi, said Sushma Swaraj.