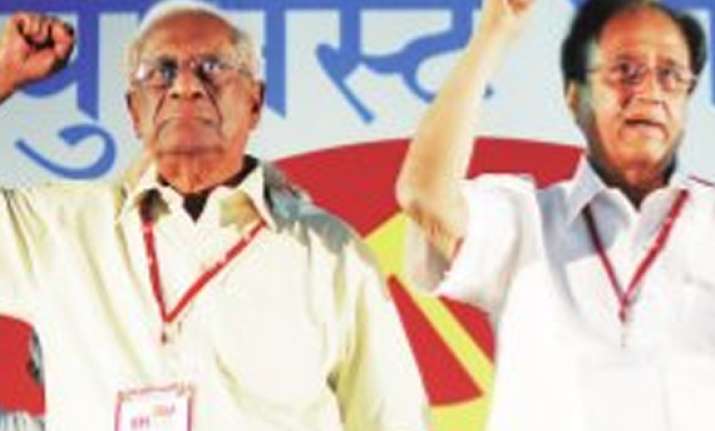 Patna, Apr 1: S. Sudhakar Reddy on Saturday took over as the general secretary of Communist Part of India  at its 21st Party Congress here.
"Get into the job comrades," was 86-year-old Ardhendu Bhushan Bardhan's clarion call and parting advice as the veteran leader stepped down from the post of general secretary.  
Bardhan, who helmed the party for 16 long years, makes way for Sudhakar Reddy, a former MP and the party's deputy general secretary, who was elected unopposed on the fifth and closing day of the CPI's 21 party Congress here.
The change of guard was long anticipated and  Bardhan himself had considered stepping down in 2007, a year before the 20th party Congress at Hyderabad.
The octogenarian leader, greatly regarded for his personal integrity and principled approach to politics, had taken over the post from Indrajit Gupta in 1996.
His parting speech was tinged with nostalgia for the past and caution for the future. reminiscing his journey as a communist, Bardhan spoke about the party's highs and lows.
Admitting that there was a lot of things lacking in the party, he cautioned against ego-clashes and infighting, urging his comrades to put aside personal desires and strive towards the building of the CPI as a unifying force.
"I'm just one of the secretaries of the Communist Party now...Maybe we had too many rivals and enemies in the past, but we proudly stood up to them," remarked the stalwart leader, in his moving final address. Bardhan would continue to lead the party's nine-member Central Secretariat.
Born in Bangladesh and brought up in Madhya Pradesh,  Bardhan worked for the party in Maharashtra, winning a seat in the State legislature only once in 1957 as an independent from Nagpur.
He contested the general elections unsuccessfully in 1967 and 1980.
The closing day saw nine members being elected to the Central Control Commission, with 125 members being elected to the party national council and 27 members constituting the party National Executive.
Lauding  Bardhan as a leader who was theoretically sound with a firm grasp of the day's politics, Sudhakar Reddy said the party would continue to be guided by him.
He also stated that a detailed plan on the revitalisation of the party at the grassroots was on the anvil.