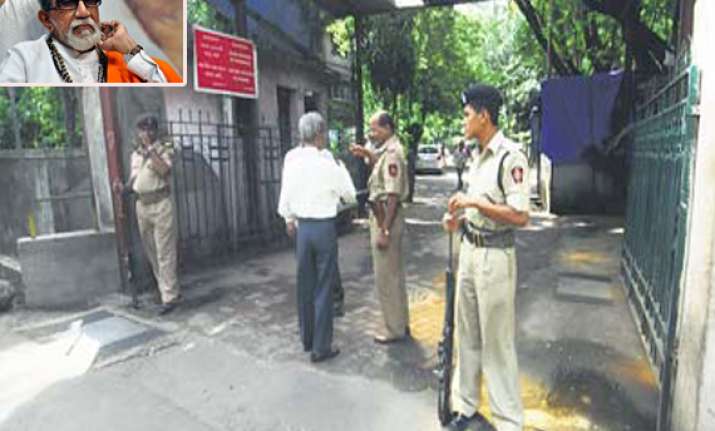 Mumbai, Nov 12 : Ailing Shiv Sena supremo Bal Thackeray today lashed out at sections of media for circulating rumours about his health and reporting that he was "on ventilator".
In a front page editorial in his party mouthpiece Saamna, Thackeray writes: "Those who publish news about me on a ventilator will themselves be put on a ventilator soon".
Thackeray singled out Marathi daily Maharashtra Times, saying "MaTa (Maharashtra Times) is khota(fake). They suppress all good news about Shiv Sena and publish 'khota' news on the frontpage. They even published Anandrao Adsul is leaving Shiv Sena and joining NCP. Our Shiv Sainiks went to their office and gave them a smack on their back. If they have forgotten this attack, they need a fresh hit on their head."
About his health, Thackeray writes: "I am weak, but it has not deteriorated. The concern of Marathi people and Hindu friends is justified, because my relations with them is of love and closeness. With the best wishes of lakhs of loyal supporters and the blessings of Maa Jagdamba, I am presently well.
"It's correct I am short of breath occasionally, but I don't need artificial respiration. My son Uddhav is with me round the clock. Doctors continue to keep a watch on a daily basis. Yesterday Pratibhatai Patil had come. I read the newspapers daily. Only daily meetings and telephonic talks are off.
"The newspaper wrote that I have called the entire Thackeray clan to Matoshri because of my deteriorating health. If I do not call the Thackeray clain, should I call the relatives of Obama and Zardari? After all, Thackeray family is bound in a relationship and it is the main source of strength. Do newspaper editors call plumbers or sweepers instead of doctors if they fall ill?
"The common people worried about my health is one thing and these editors spreading rumours about my health is another. I feel distressed."