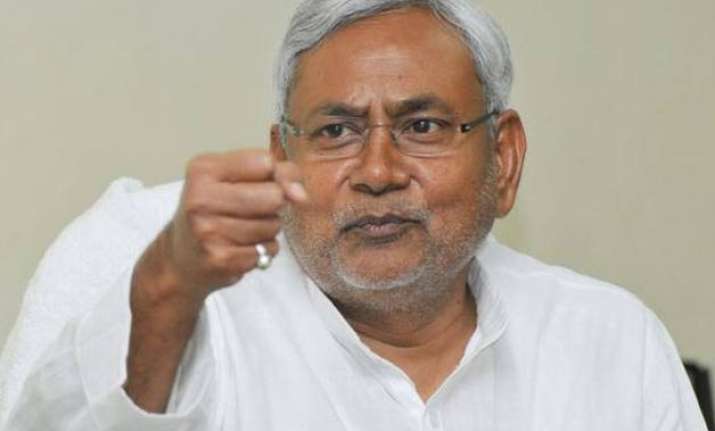 Patna: Bihar Chief Minister Nitish Kumar has claimed the state has "witnessed a steady decline in crime" and termed the alleged spurt in crime graph as a "perception created by the opposition".
"Bihar has witnessed a steady decline in crime. Despite this, opposition is trying to create a perception through media and making statements that there is a spurt in crime," he said while addressing a state executive committee meeting of JD(U) here on Sunday.
Kumar said his government would continue to work for the people and no one will be allowed to take law in their hands.
His statement assumes significance in the backdrop of the opposition's claim that there is complete lawlessness in Bihar and law and order situation needs to be improved to repose people's faith in governance.
The Chief Minister announced that Bihar Public Grievance Redressal Act will be implemented from May 1 to help resolve people's complaints within a stipulated timeframe.
Party workers and leaders need to take the works of the government to the people. Ban on country-made liquor, 35 per cent quota for women in government jobs, seven-point development programme etc should be highlighted, he said.
Meanwhile, the NDA, which observed Shahabad bandh today to protest the killing of state BJP vice president Visheshwar Ojha, submitted a memorandum to Bihar Governor Ram Nath Kovind and sought his intervention in checking 'spurt' in the state's crime graph.
In the memorandum, the NDA listed major crime incidents in recent months, including killing of BJP's Visheshwar Ojha and Kedar Singh, and LJP leader Brijnathi Singh. The alleged involvement of ruling Grand Alliance legislators in cases relating to rape and eve teasing was also mentioned.
Senior BJP leader Sushil Kumar Modi alleged MLAs of the ruling alliance are competing with each other in committing crime.
JD(U) MLA Sarfaraz Alam "misbehaved" with a couple in a train, RJD legislator Raj Ballabh Yadav has been charged with raping a minor and a Congress MLA was accused of kidnapping a girl, he alleged.
Modi demanded that the Nitish Kumar government bring these legislators to justice through speedy trial.
It would not be a surprise if Patna DIG Shalin Kumar is transferred for issuing warrant against the RJD MLA as some other police officers were transferred overnight, he claimed.