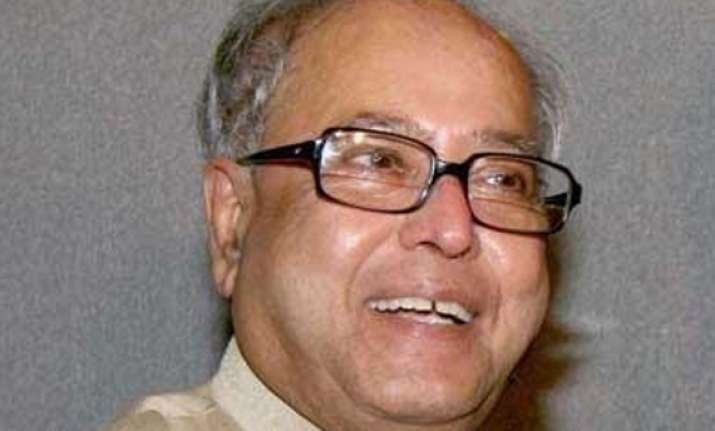 New Delhi, Jun 25: "Soon I will not be a political entity," Pranab Mukherjee remarked hours before he resigns as Finance Minister to contest Presidential poll, but promised to deliver his "last message" before he bids adieu.  
Mukherjee received a warm send off from officials of Finance Ministry whom he thanked for the support extended during his three-year stint at North Block.
In the midst of farewells he received today, the77-year-old leader promised the quotes-seeking media a "last message" before he submits his resignation to the Prime Minister Manmohan Singh somtime tomorrow afternoon.
"I got full support of all officials in whatever I achieved so far as a finance minister. I thank all the I officials for their support and co-operation," he remarked at a send-off hosted by told officials including Finance Secretary R S Gujral, Economic Affairs Secretary R Gopalan and Chief Economic Advisor Kaushik Basu.
Earlier in the day, his Congress party's top leadership including its president Sonia Gandhi, Prime Minister Manmohan Singh and general secretary Rahul Gandhi bid a warm farewell to Mukherjee, who affectionately is addressed as 'dada'.  "Soon, I will not be a part of the finance ministry, I will not be a political entity," Mukherjee said in his farewell speech to his colleagues in the finance ministry.  
As he arrived at his North Block office after receiving farewell from the Congress Working Committee - the party's highest decision making body, waiting media persons sought his comments.
"Tomorrow I will give my last message," a smilingMukherjee remarked. Mukherjee has always been obliging to mediapersons waiting for comments outside his North Block office on various issues plaguing the economy and sometimes on politics.  
Rarely has the outgoing Finance Minister disappointed reporters by not offering comments.
Even this afternoon when reporters asked him about the proposed measures to boost the economy, a smiling Mukherjee said, "I think notifications are going to be issued." He also fondly remembered his over 32-year long association with Congress Working Committee (CWC), the ruling party's highest decision making body.
Returning from a special meeting of the CWC, Mukherjee said, "Now I am giving farewell call."
Mukherjee will file nomination for the Presidential poll on June 28.