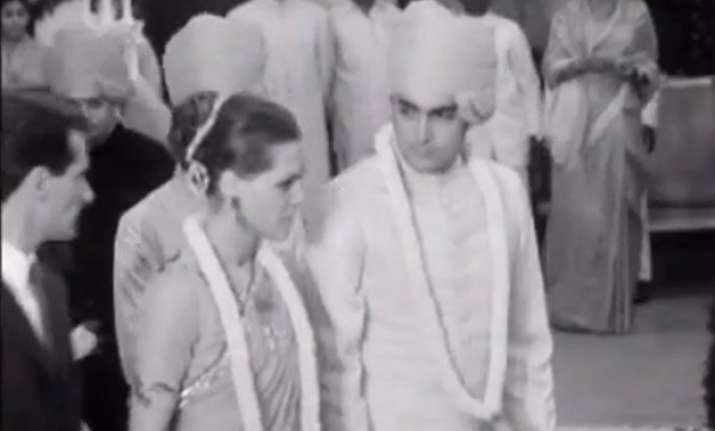 New Delhi: A rare video of Rajiv Gandhi and Sonia Maino's wedding is going viral on You Tube.
The video was published by British Movietone on July 21, 2015. This black-and-white video is from the archives of the Associated Press.
Rajiv and Sonia can be seen exchanging garlands and officially registering the marriage. The couple can also be seen cutting a 3-tier wedding cake in front of family members.
Rajiv's mother Indira Gandhi, who was Prime Minister at the time, President Zakir Hussain, Sanjay Gandhi, Vijaylakshmi Pandit, and the bride's family can be seen in the video.  After the wedding, there is a small footage of the reception hosted at New Delhi's Hyderabad house. Many politicians and party workers can be seen greeting the couple.
Sonia met Rajiv Gandhi, who was enrolled in Trinity College at the University of Cambridge, in 1965. After three years of courtship, Rajiv Gandhi married Sonia Maino in 1968. The couple, who met have two children, Rahul Gandhi and Priyanka Gandhi Vadra.
The best way to explain the sequence of events is to watch the video. Enjoy!