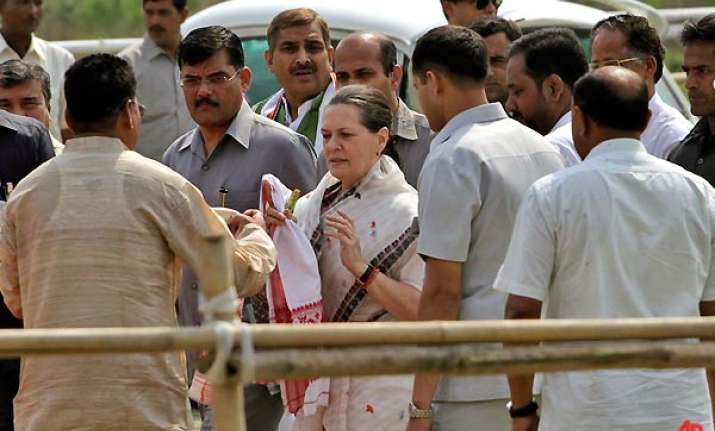 Jalpaiguri (WB), Apr 15 :
Congress President Sonia Gandhi today stressed for a change of regime in West Bengal, saying that the Left Front Government had failed to utilise Central funds given to the state for its development.
"Time has come to change the government in the state. I appeal to the people to vote for the Congress-Trinamool Congress alliance," Gandhi said in her first election rally here in support of the Congress and Trinamool candidates.
"Kendra ne is rajya ko kafi dhan dia hai, lekin iska asar kahin nahi dikha (Centre has given enough funds to the state, but its results are nowhere to be seen)," she said.
She told the people to ask the Left Front government where the Central funds had been spent.
The amount of fund given to the states by Prime Minister Manmohan Singh and Finance Minister Pranab Mukherjee, had not been given in the past, she said.
Gandhi said the amount of work done by Congress-led government at the Centre for all classes of people had not been done in the past by any non-Congress government.
Stating that some districts in West Bengal were among the most backward in the country, she said many places in the state lacked proper irrigation facilities and one-third of the people had no access to drinking water.
Gandhi also accused the state government of discriminating in implementing developmental schemes against the areas where Congress had some strength.
"Every section of the people are facing hardship. It is the duty of the government to look after all sections of people. If the Central funds were properly used in Bengal, the situation would not have come to such a pass," she said.
Lambasting the CPI(M)-led Left Front government, Gandhi said in its 34 years of rule, it had only sold dreams to the people.
"It is now time for you to ask why the dreams have not been fulfilled. Does Communism mean that people will become poorer?" she asked.
Gandhi said the Centre had initiated many pro-poor schemes like MNREGA and Bharat Nirman, besides bringing workers in the unorganised sector under insurance cover.
While the salaries of Anganwadi workers have been doubled, the Centre had also raised the reservation for women from 33 per cent to 50 per cent in the municipalities and civic bodies, she said.
Earlier Gandhi was received at the helipad by Union Finance Minister Pranab Mukherjee and WBPCC President Manas Bhuinya. PTI