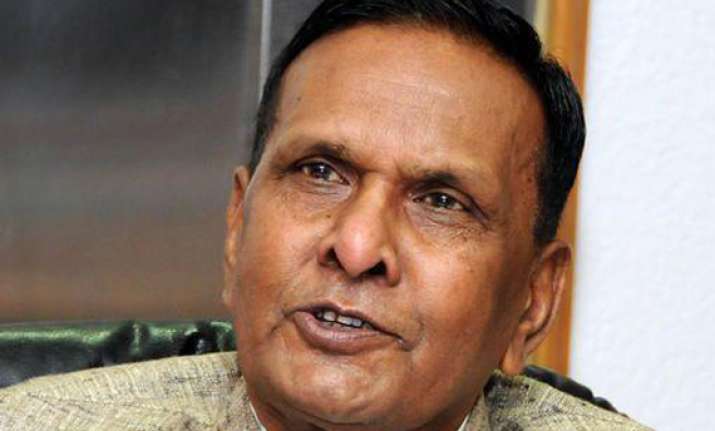 Lucknow, Jun 25 : Union minister Beni Prasad Verma today held some Congress leaders responsible for the party's defeat in the 2012 assembly polls in Uttar Pradesh, alleging they worked as B-team of the Samajwadi Party.
Talking to reporters here, he alleged the Samajwadi Party candidates were even financed by some Congress leaders.
"Some Congressmen focused on Raebareli, Barabanki and Gonda and other seats to ensure defeat of the Congress," the Steel minister said.
"SP candidates were financed by some of our leaders. They worked as B-team of the SP and passed on information to them," Verma said.
"The Congress is being sold for the past 20 years. The tickets were given to such persons who spent the money given to them by the party for the benefit of SP candidates," he said.
Verma alleged in Barabanki over Rs five crore were spent to ensure defeat of his son Rakesh Verma.
Raking up of issues like the Muslim reservation and the Batla House encounter during the elections were a conspiracy against the Congress, Verma said.
Both the issues harmed the party botching its electoral prospects, he said.
"Those involved in the conspiracies will be punished. The eyes of (party vice-president) Rahul Gandhi are open.
Rahul is alert and has the capability of running the country,"Verma said.
"My target is to make Rahul Gandhi as the next Prime Minister," the senior Congress leader said.
"Why the Muslim reservation issue was raised by our own leaders. It had nothing to do with the polls in the state," the Steel minister said.
"The Constitution does not permit reservation on the basis of religion," he added.
"When the electioneering started and Rahul campaigned, there were positive signs from the people. But the situation later changed and went against the Congress," Verma said.
Asked to reveal names of those who harmed the party, Verma said "you all know them."
"You know them better. They were obliged by the SP with security, government accommodation and other favours. They have earned thousands of crores irrespective of the party ruling the state," he said.
On upcoming Lok Sabha polls, the Congress leader said this time tickets would be given to winnable but not saleable
candidates and the party would win at least 50 seats in UP.