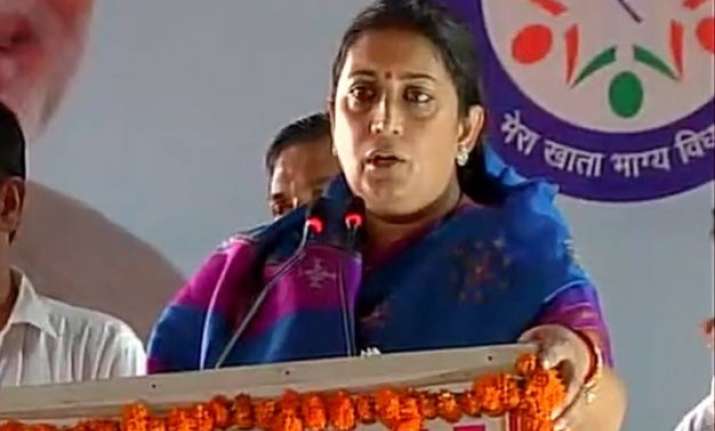 Amethi: BJP leader and Union HRD Minister Smriti Irani on Sunday came down heavily upon Gandhi family for not fulfilling its promises made to people of Amethi.
"People of Amethi were expecting Railway line to Amethi, 3 generations of Gandhi Family couldn't fulfill it," Irani said while addressing a rally in Amethi.
Irani also accused Congress of  a land scam in Amethi saying "60-65 acres of land was taken for Samrat cycle company from Amethi residents. The land was later transferred to the Rajiv Gandhi Charitable Trust on 24 February, 2015."
Taking swipe  at Rahul Gandhi, whose recent "kurta-pyjama" comment had become a subject of widespread discussion, Irani said that a reply to such comments would be unbecoming of her.
The BJP leader also used the occasion to highlight the initiatives taken by Prime Minister Narendra Modi-led government at the Centre.
Irani, who is presently on a visit to Amethi, will distribute insurance coverage money to 25,000 women.
Irani, who lost to Rahul Gandhi in the 2014 Lok Sabha elections said that the BJP is proud that they have contributed towards Amethi and done good work in the constituency.