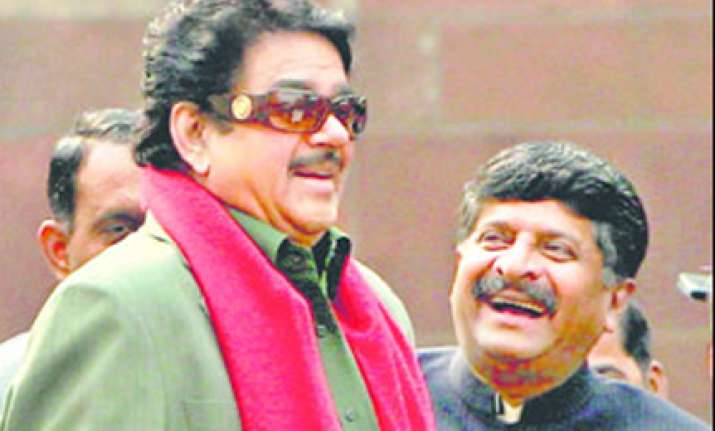 The BJP is down but not out and it will certainly bounce back much like the Sensex does, Bollywood actor-turned-party leader Shatrughan Sinha has said.
"It is true the BJP has 116 Lok Sabha members, 90 behind the tally of the ruling Congress, but still it has a big national presence and occupies almost the entire opposition space. Plans are afoot to revitalise the party," the former union minister told PTI in Itanagar on Wednesday. 
He said the party, which had once only two seats in the Lok Sabha, was able to take its strength to 200. Like the Sensex, the BJP's fortune fluctuates and it will definitely come back.
Sinha, who came here to campaign for BJP candidates for the October 13 election to the 60-member Arunachal Pradesh assembly, said he was present along with senior leaders at a long meeting with RSS chief Mohan Bhagawat recently to chalk out plan to revitalise the party.
Asked about the plans, Sinha said, "You will see when the plans are implemented."
Sinha was overwhelmed by the huge crowd at both the rallies he addressed in Itanagar on Wednesday and said cine stars were better crowd pullers than politicians because they played at least their reel roles truthfully.
"On the contrary, people see what politicians say, they don't mean. However, film stars are not always capable of converting all the crowd into votes," he said.
He said he would raise the issue of rampant corruption during the long Congress rule which had made the country, specially places like Arunachal, backward despite being endowed with huge natural resources.
When China was building infrastructure close to international border, no efforts were made to revive a dozen airfields lying unused for long in Arunachal Pradesh, he alleged.