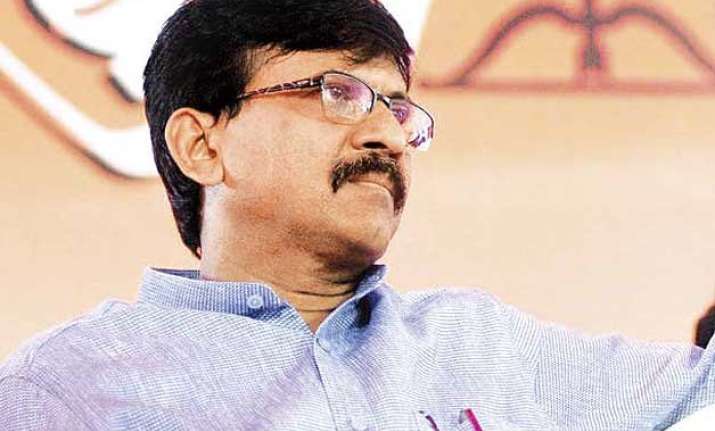 Mumbai: Bringing to fore rift with its ally after fracas over book launch of former Pakistan Foreign Minister Khurshid Mahmud Kasuri here, Shiv Sena today asked BJP to opt out of the coalition government in Maharashtra if the latter was bored of its brand of "nationalism" and "patriotism."
Adopting an aggressive posture vis-a-vis BJP, Sena attacked its senior ruling alliance partner, bringing to fore fissures in the alliance between the two parties, which parted ways ahead of Assembly polls in Maharashtra last year, but later came together to share power.
"We are a nationalist party that is full of patriotism and love for our motherland. If they (BJP) have any problem with us or is bored with nationalism and patriotism, they should opt out of power. This is a coalition government and they can thus leave power if they want to," Sena MP Sanjay Raut told reporters here.
Further needling BJP, Raut said "those who are trying to teach us patriotism should first talk about uniform civil code and Ram Mandir. These two issues, along with the issue of Kashmir, are directly linked to patriotism.
First talk about these then give lessons on patriotism." The Rajya Sabha MP, without naming BJP, said the party leaders should not shy from openly saying they are fed up with Sena and are thus giving up power.
"Uddhavji is the only person who is fighting against the atrocities of Pakistan. Yesterday, what Sena did was in the interest of Maharashtra. We expected BJP to support us," Raut said referring to Sena workers blackening the face of columnist Sudheendra Kulkarni who organised Kasuri's book release in Mumbai, ignoring Sena's diktat to cancel the event.  
Sena's latest assault on BJP came in the wake of Chief Minister Devendra Fadnavis condemning the paint attack on Kulkarni, saying the incident has brought disrepute to Maharashtra.
Sena is in a blow hot blow cold relation with BJP from the time both went through a bitter separation prior to assembly polls and then formed an uneasy alliance. Both have clashed on a slew of issues, ranging from a nuclear plant in Jaitapur to distribution of portfolios.  
Shiv Sena forcing the cancellation of Pakistani ghazal maestro Ghulam Ali's concerts in Pune and Mumbai, and yesterday's paint attack on Kulkarni, a former BJP member, has further widened the chasm between the Hindutva allies.