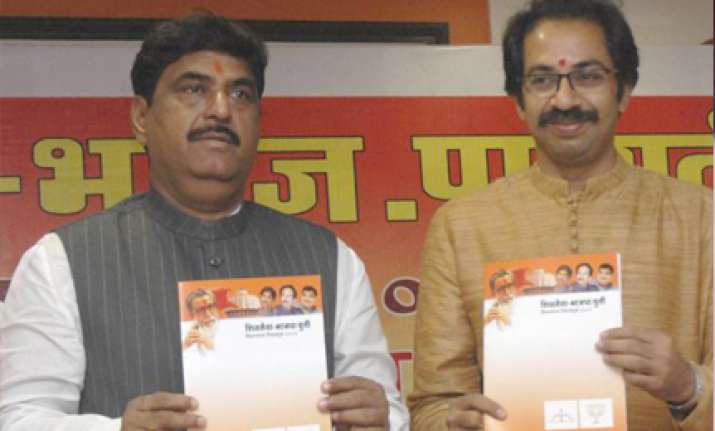 A separate ministry for welfare of nomadic tribes, 15 per cent quota in jobs and educational institutions for economically backward classes and stabilising prices have been promised in the manifesto of Shiv Sena-BJP alliance for the October 13 Maharashtra Assembly elections.
The manifesto or 'vachan nama' was released by Shiv Sena Executive President Uddhav Thackeray in the presence of senior BJP leaders Gopinath Munde and Nitin Gadkari at Shiv Sena Bhavan in central Mumbai on Monday on the festive occasion of Dussehra. 
"The Shiv Sena-BJP if voted to power will provide a people-centric government and involve people in decision-making," Thackeray told reporters.
'Shiv Sampark Cell' with state-of-the-art technology will be established to keep abreast of the people's problems and a separate ministry will be created to co-ordinate between the government and the people, he said.
Thackeray said Shiv Sena had earlier set up a helpline and also created an email-Id seeking suggestions for preparing the saffron alliance's manifesto and the initiative drew an overwhelming response.
"We don't intend to stop this initiative after elections and will continue this dialogue with citizens," he said.
   "Sena-BJP will provide soft loans to farmers at 4 per cent interest, Rs 500 pension for farm labourers, work towards stabilising prices of five essential commodities for five years, set up a separate ministry for nomadic tribes and provide 15 per cent reservation for economically backward sections in jobs and education," Munde, BJP General Secretary, said.
The Bandra-Nariman Point Sea Link would be extended northward till Versova and work on Mumbai-Nashik eight-lane express way would be expedited. All other main cities in the state will be linked through express ways, Gadkari said.
The Sena-BJP will strive to make the state power surplus within three years of assuming charge of the government and emphasis will be laid on developing water transport in Mumbai and all efforts will be made to turn the megapolis, the country's financial capital, into a truly state-of-the-art international city.
The Shiv Sena-BJP government will make the report of the Pradhan committee, which probed the lapses that led to 26/11 terror attacks, public and ensure appropriate action against the guilty, Gadkari said.
A museum will be set up in Mumbai depicting the 'Samyukta Maharashtra' movement and a permanent mechanism would be created to stop the inflow of illegal migrants, Thackeray said. PTI
The other highlights of Shiv Sena-BJP alliance manifesto include free education for girls till graduation and compulsory education for all upto standard X.
Besides, it said there will be no hike in power tariff, which would be uniform for Mumbai city and suburbs.
Declaring that it will not allow accquisition of farm land for SEZs, the manifesto promised initiative for desalination of sea water in view of drinking water shortage in Mumbai.
The Saffron partners will prepare a "Vision 2014" blueprint for overall development of Mumbai wherein issues of slums, old and dilapidated chawls, buildings and transport will be addressed.
The alliance promised to focus on rehabilitating people displaced due to various infrastructure projects. The manifesto stated that the Brihanmumbai Muncipal Corporation (BMC) will be the final authority for implementing and co-ordinating all works related to Mumbai.
Stating that 80 per cent of the skilled and unskilled jobs will be provided to locals, it vowed to encourage the sons-of-the soil to take up self-employment and promised adequate steps to boost the morale of the police force.
It also spoke of raising "Tiger Force", a reserve force of 10,000 jawans in cities like Mumbai, Pune, Nashik. 
The government of the saffron alliance will enact a law to celebrate "Marathi week" from February 21 to 27 every year, the manifesto said, adding Sena-BJP will complete its unfinished task of having all government related work in Marathi in the next five years.
It also spoke about plans to set up a separate board for translating best works across the globe into Marathi and utilising Rs 2000 crore made available by the centre for the purpose. PTI