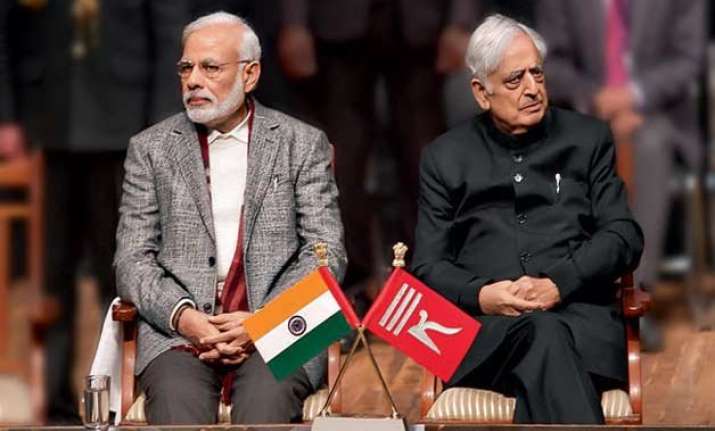 Jammu: The Shiv Sena today asked the BJP to withdraw its support from the PDP-led coalition government in the state for allegedly ignoring the interests of the people of Jammu.
"BJP should withdraw its support from PDP for ignoring the interests of Jammu and should strongly oppose the decisions of Chief Minister Mufti Mohammed Sayeed," president of Dogra Front and Shiv Sena Ashok Gupta said.  
The workers of Dogra Front and Shiv Sena took out a procession in Jammu against the shelving of the multi-crore artificial lake project on river Tawi and denial of AIIMS to Jammu region.
The state government is not taking up the issue of AIIMS for Jammu with the Centre, "and now the decision of the Chief Minister to abandon the prestigious artificial lake project is another decision against the interests of the people of Jammu," he said.
On the lake project which is aimed at beautification of the city and to attract tourists and pilgrims visiting the state, Gupta said the decision of the state government is "most unfortunate and condemnable". 
"The decision is absurd when around Rs 55 crores have already been spent and the project was to be completed in March 2016," he said, adding that most of the important components of the project had been completed.  
Gupta said that while the Chief Minister showed temerity in denying Jammu the projects, the Deputy Chief Minister Nirmal Singh and entire BJP leadership of the state seemed to have succumbed to the pressure.
It is ironic that while the people of Jammu had expressed their utmost faith in the BJP and gave the party 25 MLAs they have in turn let down the region, he said.  
"If the decision has been taken to appease Pakistan who might have objected to the construction of the lake on Tawi, then it's really unfortunate and a probe must be held on this and a white paper must be issued on this explaining the factors for the cancelling of the lake project," he said.