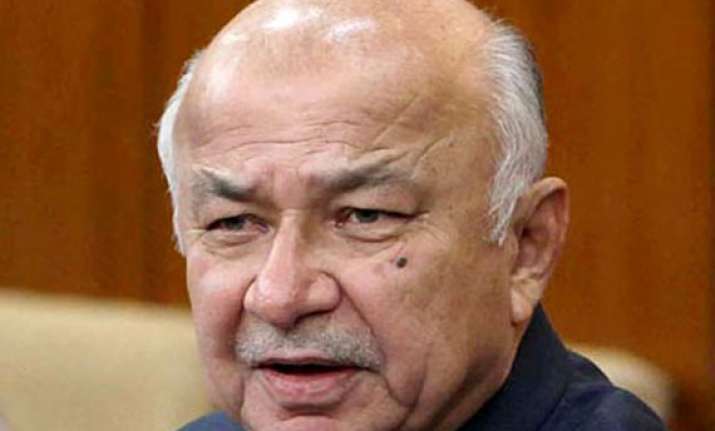 New Delhi, May 31: Home Minister Sushilkumar Shinde yesterday met Congress President Sonia Gandhi here and apprised her of the actions by the government in connection with May 25 Maoist attack on party leaders in Bastar.
In a clear signal of the party toughening its stand against Naxals, Congress spokesperson Bhakta Charan Das also endorsed Union minister Jairam Ramesh's stand that the Maoists are terrorists.
"I cannot ignore this view of Jairam Ramesh. This view has got some substance. We cannot ignore it," Das, who is also the AICC secretary for Chhattisgarh, told reporters.
Slamming the Maoists, Ramesh, who has generally been against hardline approach towards Maoists had lashed out at them on Tuesday saying "They are terrorists. What else are they? You can't romanticise them. They are spreading fear. They are spreading terror."
Responding to a question that Gandhi had some time back described the Naxals as "misguided youths" and whether it was now a course correction to call them "terrorists", Das said, "With the passage of time their (Maoists') colours have changed."
Reiterating his allegation that Maoists and BJP are closely working in Chhattisgarh to serve each other's purpose, Das questioned that if the state government can make comprehensive security plan for its Vikas Yatra, why can't it do the same for the Parivartan Yatra of Congress.
"Does this not raise a question? 29 persons lost their life because the BJP government in Chhattisgarh failed to discharge its responsibility. They have not been able to answer even a single question raised by us.
"They should answer why this incident happened. This is the moral responsibility of the Chief Minister to quit his post," the Congress spokesperson said.
Das also vehemently denied the suggestion that slain Congress leader Mahendra Karma was the architect of Salwa Judum saying it was created by the BJP's government in Chhattisgarh and Karma was later roped in.
"Congress party never supported it. It always opposed any such structure. When Karma also realised his mistake, he withdrew from it. This is wrong to call him the founder of Salwa Judum," Das said.
He also questioned who gave the Salwa Judum people the guns and the money and who appointed them.
He also dismissed the charge by BJP general secretary in charge of Chhattisgarh J P Nadda that Congress was soft towards Naxals saying that one should look the number of districts where Naxalism spread after Raman Singh became chief minister of Chhattisgarh.
Speaking on the condition of anonymity, a leader said that there was something more than what meets the eyes in the incident suggesting some political conspiracy.
"Extreme right and extreme left have joined hands for personal gains," said the Congress leader.