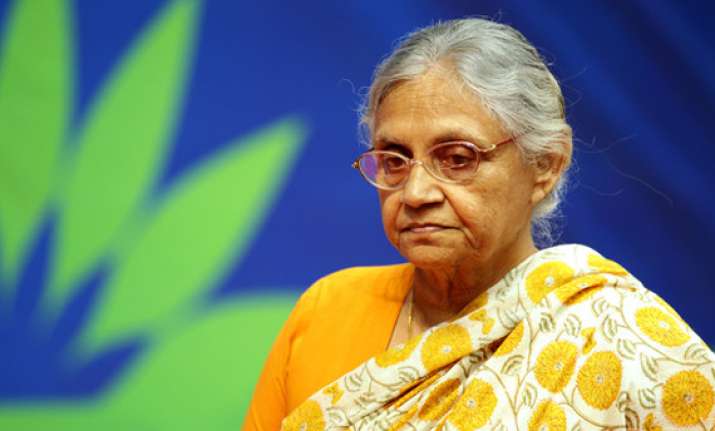 New Delhi, June 10: Eyeing next year's assembly elections, Chief Minister Sheila Dikshit on Saturday asked party MLAs to pull up their socks and work hard to connect with people at the grassroots.
In a Congress Legislature Party meeting, Dikshit strictly told the MLAs to spend time with people in their respective constituencies and ensure effective implementation of various welfare schemes.
Asking her partymen to get ready for the assembly polls, she said they must reach out to the people to regain the support base as citizens voted for BJP in the municipal election.
"Funds will not be a problem at all. If you face any difficulty in implementation of any development work or scheme, come to me. It is high-time, you get your acts together," an MLA quoted her as saying. 
The Chief Minister also told the MLAs to work in tandem with Resident Welfare Associations for effective implementation of various schemes.  A number of MLAs raised the issue of severe water and power shortage in the city and asked Dikshit to take steps to improve their supply.
"People are fed up with power and water shortage. We must improve supply of water and power," said an MLA. 
Dikshit also apprised the MLAs about relaxation of certain norms by the Union Urban Development Ministry for regularisation over 1,200 unauthorised colonies. 
She said all the departments concerned and agencies have already been told to put in place basic infrastructure in the unauthorised colonies which were given provisional regularisation certificates in 2008.
Dikshit said as the Centre has relaxed certain norms, the Delhi Government will now expedite the process to regularise the colonies.
Heeding a request by Delhi government, the Urban Development Ministry has allowed regularisation of the colonies by drawing their boundaries on the basis of satellite image of 2007 instead of satellite image of 2002, paving the way for speedy regularisation of the colonies. 
Dikshit also asked the MLAs to keep an eye on development works in unauthorised colonies which are home to over 40 lakh people.
Lack of developmental work in unauthorised colonies was identified as a major reason for Congress' defeat in Delhi municipal polls last month.
Assembly elections in Delhi is slated for December, 2013.  A number of MLAs also raised the issue of problems being faced by people due to "harassment" by the task forces which were formed to curb illegal constructions across the city.  Some MLAs also thanked Dikshit for withdrawing the five per cent VAT on the CNG.