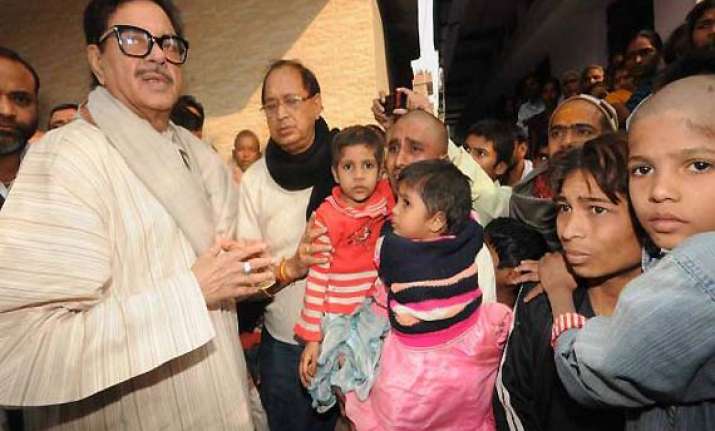 Patna, Nov 24: BJP leader Shatrughan Sinha on Saturday said he was 'ideologically' with Ram Jethmalani and Yashwant Sinha who have sought the resignation of party president Nitin Gadkari over allegation of corruption.
"The issue raised by them (Jethmalani and Yashwant Sinha) should be looked at seriously," Sinha, BJP Lok Sabha member from Patna Sahib, told reporters in Patna.
Jethmalani, while demanding Gadkari's resignation, had claimed some other BJP leaders were with him on the demand for Gadkari's exit as party chief.
On Gadkari, the actor-turned-BJP leader said "he is a friend but a person occupying a responsible post should not only be honest but should also be seen as honest."
The campaign for the resignation of beleaguered  Gadkari had recently got fresh ammunition with Yashwant Sinha demanding that he step down immediately.  
Earlier,  Jethmalani and his son Mahesh had made the demand in the wake of reports of alleged dubious financing of Purti Sugar and Power Group, which was promoted by  Gadkari.
Praising Yashwant Sinha and Ram Jethmalani,  Shatrughan Sinha said they are capable persons and have all the qualification to become Prime Minister of the country. "But among the present leaders in BJP, L K Advani is the best candidate for the PM's post."
Shatrughan Sinha agreed with Jethmalani's views on the appointment of Ranjit Sinha, a Bihar cadre IPS officer, as CBI Director.
"An important organisation like CBI cannot be kept headless ... The appointment of its new director has been done in a fair manner," he told PTI.
Ranjit Sinha is the senior most IPS officer and a "competent" officer to occupy the responsible post of CBI Director, he added.
Jethmalani flayed BJP during the day for criticising the appointment of new CBI Director and had said the government's decision has averted a national calamity".
Leaders of the Opposition in Parliament Sushma Swaraj and Arun Jaitley had written to Prime Minister Manmohan Singh demanding that the decision on the appointment of Ranjit Sinha be kept in abeyance.