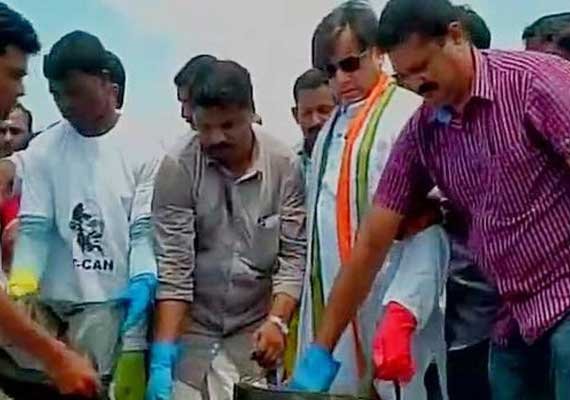 Trivandrum: Unfazed by the Congress leadership's decision to remove him from the post of spokesperson, senior party leader and MP from Thiruvananthapuram Shashi Tharoor today formally joined Prime Minister Narendra Modi's ambitious 'Swachh Bharat Abhiyan'.
Clad in a white kurta-pyjama and wearing a headscarf of Congress party, the leader arrived at the Vizhinjam beach and participated in the cleanliness drive.
Tharoor was recently removed as Congress spokesperson for praising Narendra Modi.
He was among nine people whom the Prime Minister had nominated to take the 'Swachh Bharat Abhiyan' challenge.
Tharorr's move is seen as a further boost to the Prime Minister's 'Clean India Mission' which he had kicked-off on October 2 to commemorate the birth anniversary of Mahatma Gandhi.