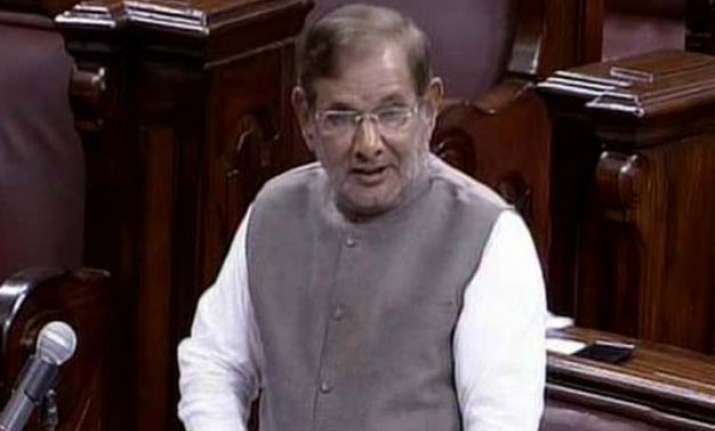 New Delhi: During a debate on the government's Insurance Bill, Janata Dal United Bihar politician Sharad Yadav suddenly diverted from the discussion and went on a weird rant on women and skin colour.
Yadav discussed 'saanvli' (dark) colour of the South Indian women and said, "The women of the south are dark but they are… their bodies…," and went on to speak about their "dancing skills".
However, Yadav justified his statements saying there was no harm in some non-serious discussion when DMK MP Kanimozhi objected to his remark and asked him to focus on the topic of discussion.
"Your god is dark like Ravi Shankar Prasad (present in the House), but your matrimonial ads insist on white-skinned brides," he said.
Prasad was prompt in his reply, saying, "There was also a dark man — Mahatma Gandhi who drove the whites (goras) out of the country."
Several male members were seen bursting into laughter at his crass comment. The only MP who could be heard criticising him violently was DMK's Kanimozhi who kept objecting to his statements.
"The topic was the insurance bill. I don't know why he had to make comments on women's bodies. It shows the chauvinistic attitude of such MPs," said Left member P Rajeev.
"It's shocking and highly objectionable. These remarks should be expunged and not allowed," said senior CPM leader Brinda Karat.
Congress leader Rajiv Shukla said Yadav should apologise.
JD(U) president's comments have also  invited the wrath of social media.
The Insurance bill seeks to raise the FDI cap in insurance sector from 26 per cent to 49 per cent.
Digressing from the topic of discussion, Yadav started speaking about the "affinity" for people with white skin. Yadav also mentioned filmmaker Leslee Udwin whose documentary 'India's Daughter' included an interview of one of the rapists of the December 16 gang-rape. "She must have got permissions easily because of her white skin," he said.
It is surprising when you read up on Yadav and find out he was selected as an 'outstanding Parliamentarian' just three years ago.
"In our matrimonials too we look for gori, gori (fair skin)."Trinamool member Derek O'Brien signaled to him to shut up (he didn't listen), and when DMK MP Kanimozhi objected, Yadav told him that not all Parliamentary discussions were "serious".
Yadav had in the past controversially used the term "parkati auratein (short-haired women)" to argue against the Women's Quota Bill.
Later, Yadav justified his statement, stating that "there is nothing wrong in what I said."