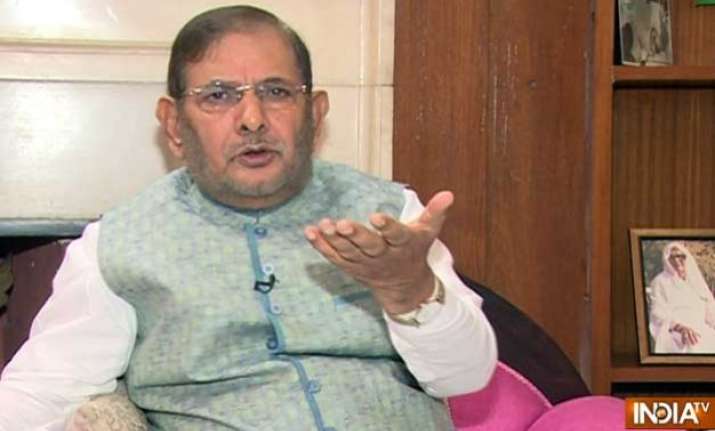 New Delhi: JD (U) President Sharad Yadav firmly believes that the Vajpayee government's decision to release terrorists in Kandahar in wake of the IC-814 hijack was absolutely wrong.
In an exclusive interview to indiatvnews.com, Sharad Yadav, who was civil aviation minister in Vajpayee cabinet at that time, said that he was totally against the release of terrorist and had conveyed his views to Prime Minister Vajpayee but the PMO took a different decision.
"I had suggested that let trolleys be placed on the runway at Amritsar airport so that the plane was not allowed to take-off. I had conveyed my suggestions to PM Vajpayee," Yadav said.
When asked to explain if there was lack of coordination between the CMG (Crisis management Group) and the PMO (Prime Minister's Office), Yadav said, "CMG fell within our domain but everything was being decided by a person in the PMO who I don't want to name now as he is no more (Read Brajesh Mishra, the then NSA). But I want to make it clear that this decision was taken by the PMO."
Sharad Yadav blamed the relatives of passenger and political parties including Congress for building pressure on the government to concede the demands of the terrorists.
"There were people who had surrounded my residence as well as the residence of PM Vajpayee. They were creating disturbance at the airport. They had no qualms over the sons of farmers and laborers being killed at the border but they all got united when it came to their own near and dear ones. Even Congress party was demonstrating in their support. And which political party did not demonstrate in their favor?" Yadav asked.
 
Sharad Yadav has very harsh words for former RAW chief AS Dulat who has made some startling disclosures including the Kandahar surrender in his book "Kashmir: The Vajpayee Years".
The JD (U) President even termed AS Dulat a coward man.
"He should not have raised these questions now. Why is he writing a book now? He is a coward man (Woe ek qayar aur buzdil aadami hai).  Why didn't he write all this earlier? I would not have used such harsh words against him if he had not said all this," Yadav said.
Watch Video Here: