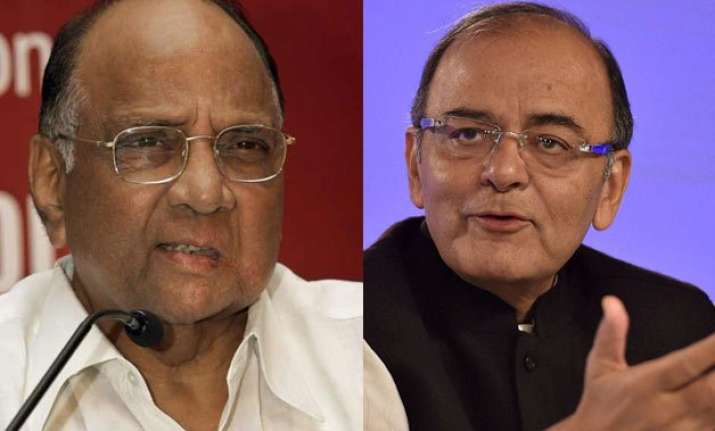 Baramati: Eight months after he invited Prime Minister Narendra Modi to his home turf, NCP chief Sharad Pawar has fuelled speculations in political circles by hosting Finance Minister Arun Jaitley at Baramati in western Maharashtra. 
Jaitley, who is attending a series of functions at Baramati and Pune today, spent last night at Pawar's Govind Baug residence near Baramati. 
Jaitley had dinner at Govind Baug with Pawar, party sources told PTI. 
Today Jaitley will inaugurate the new building of the College of Agriculture and Allied Science and also attend the renaming ceremony of the Vidya Pratishthan College of Engineering as Kamalnayan Bajaj Institute of Engineering and Technology at Baramati. 
The development is being seen in the context of the soured ties between the BJP and its ally in government, Shiv Sena, and against the backdrop of Pawar's party offering unconditional outside support to the BJP last year after the latter emerged as the single largest party to stake claim to form government after Assembly elections.
In February, Modi had shared the stage with Pawar in Baramati leading to speculation on the prospect of the BJP andthe NCP working on their differences and coming together after a bitter election campaign last year, where both sides minced no words while attacking each other.
While Modi had attacked Pawar during Maharashtra elections last year and called the NCP the "Naturally Corrupt Party," the February visit sparked off a new bonhomie where the PM sang a different tune. 
Calling Pawar an experienced leader, the PM had said, "I speak to Sharad Pawar more than two times a month. He has always thought of farmers' plight."
Taking a dig at the media, Modi had said, "It's a good day for the media. They will pull out old tapes of what Modi had said earlier and what Pawar had said earlier. We have different beliefs but national interest is a priority.