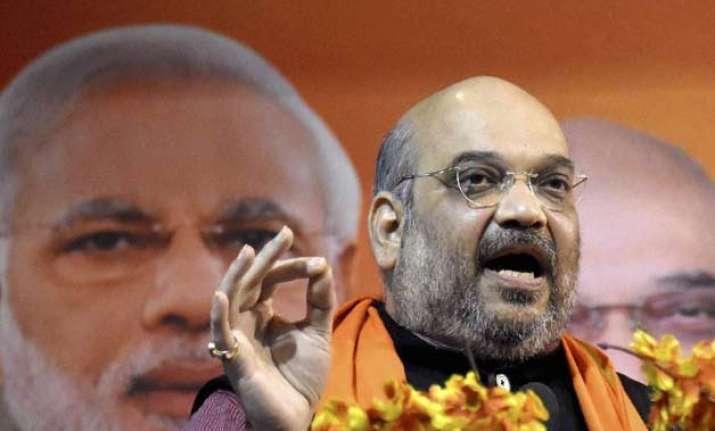 New Delhi: Facing attack from outside and growing unease within, BJP chief Amit Shah today "reprimanded" several top party leaders who had made controversial comments on the Dadri lynching and beef row after Prime Minister Narendra Modi voiced "extreme displeasure" over their actions.  
Haryana Chief Minister Manohar Lal Khattar, Union Minister of State for Agriculture Sanjeev Balyan, Unnao MP Sakshi Maharaj and Uttar Pradesh MLA Sangeet Som, an accused in the Muzaffarnagar riots, were "summoned" to BJP president Amit Shah's office where they were "reprimanded" and warned against making comments that "threaten to derail" the Modi government's "positive agenda", a senior party functionary said.
"Khattar, Balyan, Sakshi Maharaj and Som were summoned to Amit Shah's office and were reprimanded in person for their controversial utterances as because of these the positive agenda of the Modi government like employment generation, poverty reduction and development get somewhat derailed," he said.
The BJP functionary said "displeasure" was also telephonically conveyed to MoS for culture and tourism Mahesh Sharma.
"Besides, a message has been sought to be conveyed to the entire party hierarchy that leaders should desist from making statements that create unnecessary controversy. People prone to making controversial statements have also been conveyed the party's unhappiness," he said.
The move came a day after one of BJP's oldest allies Shiromani Akali Dal termed the lynching of a Muslim man in Dadri last month over beef eating rumours a "shame" for the country and said what happened after that was "damaging the Prime Minister more than anybody else".  
SAD MP Naresh Gujral had said, "What happened after the lynching incident in UP is damaging the NDA, the BJP and damaging the Prime Minister more than anybody else." He deplored that "motormouths" were not paying heed to even Prime Minister Narendra Modi and that no action was being taken against them.
"But unfortunately, no action has been taken against anybody...motormouths are not paying heed to what the Prime Minister has said. It is high time some action is taken against anybody so that a strong message goes all the way in Sangh Parivar that this kind of nonsense will not be tolerated," he had said.
However, Congress dismissed Shah's exercise as "mere gimmick" and "empty formality" after the "horse has bolted".  
"What is the point of closing stable door after horse has bolted? For 18 months such divisive and provocative statements and actions have been recurring with monotonous regularity.  
So, after 18 months Amit Shah has found time to chastise MPs and ministers.
"It is obviously an empty formality. Modi has still not found time and continues to practice deafening silence. This has been a mere gimmick far from solving issues which amounts to admission of guilt," Congress spokesperson Abhishek Manu Singhvi said.