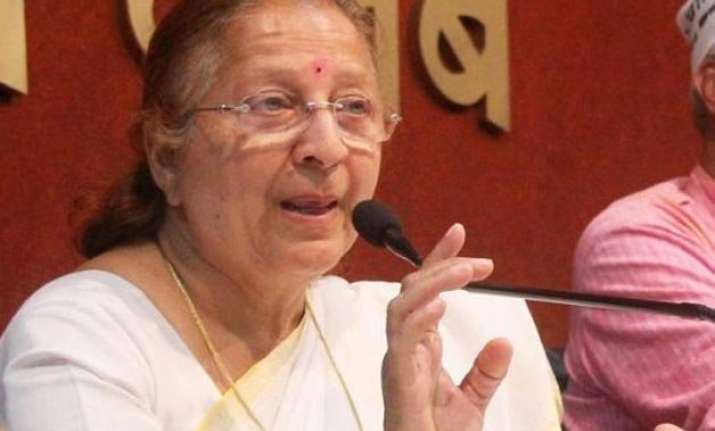 Visakhapatnam: Lok Sabha Speaker Sumitra Mahajan today said self-regulation was the best policy for media as any form of regulation on it whether by an imposed law or by guidelines is looked upon with apprehensive fear of censorship and state suppression.
Inaugurating the three-day Commonwealth Parliamentary Association (CPA) Conference on Parliament, Media and Law here she said media was a bridge between public and parliamentary institutions and helps decision makers to understand the mood of public and hence plays a crucial role in democracy.
"Self-regulation is the best for media and it should be understood that with rights come responsibility and hence this freedom should exercised wisely and responsibly," she said, adding when we talk about media freedom, we not only think in terms of strengthening media freedom but also to regulate so that freedom is used in a constructive manner.
She said as the medium through which public is informed of public issues, government policies and programmes, freedom of media was essential.
"Freedom makes it possible for media to exercise huge influence on society by shaping public opinion. The power that media has in a free democratic society is apparent from the status it has earned as the Fourth Estate of society. However, it was also to be understood that with powerful right to freedom, comes great responsibility," Mahajan said.
The Speaker said there was need a for media to ensure that freedom was used wisely and responsibly, and corresponding responsibilities were consciously fulfilled.
"How to achieve this -? whether by an imposed law or by guidelines voluntarily adopted by media -- is a question. We have distinct systems of regulation for broadcast media, print media and social media.
She said there were different views on media regulation.
"There is a strong argument, mostly held by media industry, that media accountability is better served by self-regulatory institutions.
"Any form of statutory regulation is looked upon with apprehensive fear of censorship and state suppression of media freedom. However, media insiders and people who have been associated with regulatory authorities will agree that even the agencies who are regulating the media at present are very weak in their enforcement," the Speaker said.
So there is a need for better regulation, whether it is done by government or by bodies of media industry itself ? is a question you must debate in this conference, Mahajan said.
Union Minister for Urban Development and Parliamentary Affairs, Venkaiah Naidu said that democracy required active participation of people and the media should bring to people facts so that they could come to informed decisions on various issues concerning them.
He said media could 'make the innocent guilty and the guilty innocent'.
"Criticism is welcome but not cynicism, debate is welcome but not denigration and disruption. Media should desist incentivising disruption and disorder," he said adding that he was not criticising the media but wants healthy traditions to develop.
He said media should not be too adversarial not too close to parliamentarians.
However, he welcomed reports on details of MP funds remaining unspent as also on absenteeism of some members in the House.
Andhra Pradesh Chief Minister N Chandrababu Naidu recalled recent changes in media from print and electronic to social media and said that the latter has enabled one to reach people directly.
"Social media helped government to gauge people mood and chalk out developmental programmes accordingly. Social media had changed the traditional way of government working," he said.
Andhra Pradesh Assembly Speaker Kodela Siva Prasad pointed out to the explosion of media and the difficulties in curbing unethical media.
"Self-appointed mechanism is best for media," he said.
Delegates from 13 Commonwealth countries and speakers and others from 20 states are taking part in the conference.