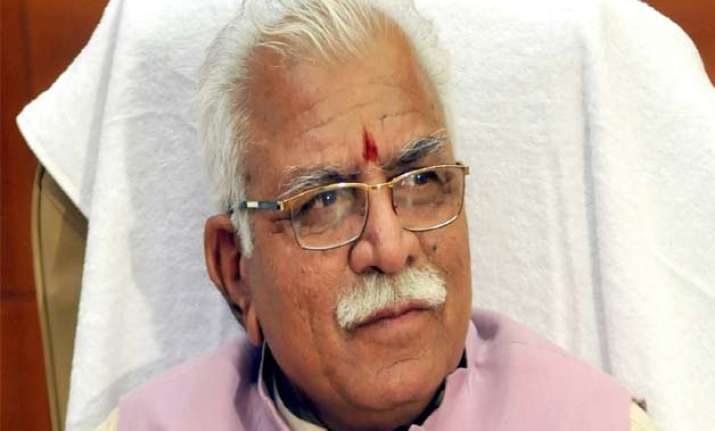 Chandigarh:  Haryana Chief Minister Manohar Lal Khattar today said the launch of three social security schemes by the Prime Minister Narendra Modi will directly benefit the country's poor.
The Chief Minister was speaking at a state-level function organised for the launch of the schemes in Karnal today.  
He also distributed enrolment letters to 10 beneficiaries of the schemes.
Referring to farmers, the Chief Minsiter said that their crops had been damaged due to rain and hailstorms in March-April. Keeping in view their condition, he ordered special girdawari and also distributed about Rs 1,092 crore in the form of compensation to the farmers.  
While earlier, the governments used to give only Rs 200 crore as compensation, state government has paid many times more and taken various farmer friendly decisions, he added.  
About development works being undertaken in Karnal, the Chief Minister said that one of the long pending demand of the area was construction of a new bus-stand, and now it was being constructed on Indri road over 32 acres of land.  
The local bus-stand would be constructed in Sector-12 and the present bus stand would be used as parking slot.  
About 10-km stretch of the district and national roads in Karnal would be four-laned, he added.  
Speaking on the occasion, the Union Minister of State for External Affairs, Gen V K Singh (Retd), said that these schemes were being launched in the entire country and would benefit every section of the society.
Earlier, government and institutions used to give pension to officers and employees, but now government would give pension to all subscribers of these schemes on the completion of 60 years.