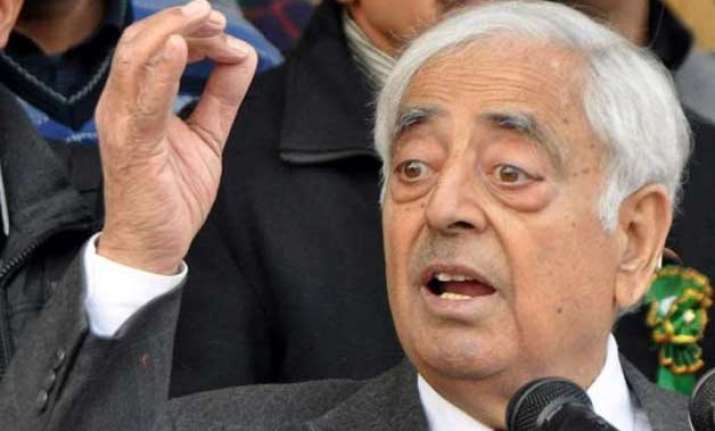 Srinagar: Accusing Jammu and Kashmir Chief Minister Mufti Mohammad Sayeed of "misleading" people of the state on the beef ban issue, Independent legislator Sheikh Abdul Rashid today said there was no need for moving the Supreme Court on the issue as the state assembly was powerful enough to deal with it.
"Humiliating and disguting... Mufti's head should lie in shame," quipped Rashid when asked about his reaction to the state government approaching the Supreme Court against two "conflicting" orders of the High Court pertaining to the slaughter of bovine animals and ban on beef sale in the state.
"He (Sayeed) can do it in the Assembly...He is just going to give it cover up and just wasting time. He is misleading people," Rashid, who staged a sit-in at Partap Park here against the beef ban, said.
Rashid said the Chief Minister is a veteran politician and must know that it is within the domain of the state assembly to revoke the 150-year-old law.
"I think he (Sayeed) is just trying to buy time. There is a hatched and arranged conspiracy. If he is sincere, we have already brought up a bill, let him support it or let him bring a bill and we will support him. The Supreme Court has nothing to do with it," the MLA said.
Accusing Assembly Speaker Kavinder Gupta of being an "RSS agent", Rashid asked him to mend his ways.  
"He (speaker) is not representing a particular region or party. We hope he will mend his ways otherwise I will have no option than to call him RSS agent and murderer of democracy," he said reacting to the reported remarks of Gupta that he would not allow any bill aimed at scrapping beef ban to be tabled in the assembly session beginning tomorrow.  
"I have the highest regards for the Speaker and the chair but at the same time he has proved that he is an agent of RSS and doesn't do anything on his own.  
"He has disgraced the House and not following the constitution. He is the custodian of the rights of the people of Jammu and Kashmir. He is forgetting that. He seems to be just keeping in mind that he belongs to RSS, BJP and Sangh Parivar. He disgraced the chair and it is absolutely shameful.  They are limiting the scope in the assembly for the debates which we will not tolerate," Rashid said.
Meanwhile, JKLF Chairman Muhammad Yasin Malik, along with over a dozen party activists, was detained on the outskirts of the city to prevent him from visiting Kangan in Ganderbal district of central Kashmir where he was scheduled to address a public meeting during Friday prayers.  
"Malik along with many party leaders and activists was arrested near Zakura area when he was on way to Kangan," a JKLF spokesman said.
The spokesman claimed that another JKLF delegation led by Noor Mohammad Kalwal and Sheikh Abdul Rashid managed to reach Kangan, 40 kms from here, and organised the public rally.  
"A protest rally was also held there and the participants lodged their protest against 'choking of political space' and arrest of JKLF chairman and others," he said.