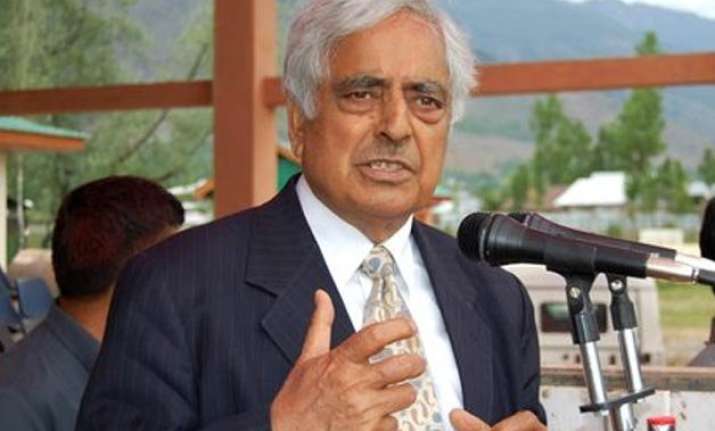 Jammu: Jammu and Kashmir Chief Minister Mufti Mohammed Sayeed today asked his ministers to work to rebuild the system, restore credibility and ensure accountability in governance to fulfil the aspirations of the people of the state.
Sayeed, who chaired the maiden meeting of his Council of Ministers at Civil Secretariat here, listed out the priorities of the government.
The Chief Minister said the main focus of the government should be on reviving the defunct institutions and restoration of their credibility as per the aspirations of the people, for which they have given their mandate.  
"The J&K state would not move ahead until we bring accountability, transparency in governance," he said, adding that it was not a partisan coalition but a coalition of hope, reconciliation and opportunity which shall focus on removing the trust deficit between the State and rest of the country.  He said interest of the nation and that of the people of State shall be supreme and the party's interest will always come second.
"The government will work for promoting understanding and emotional integrity among the regions and the communities of the State which is the primary agenda of the coalition, the Chief Minister said, and added that he himself would work as a head of the family where everybody will have equal opportunities to work for the welfare of the people. 
Referring to his previous tenure as J-K Chief Minister, Sayeed said he ensured equitable development of all regions of the State and present government was committed to carry forward the same.
He said common minimum programme of the coalition was a guideline for the governance and it was its the duty to implement it judiciously.
Sayeed said although it was natural to have loyalty to party yet, everyone will have to work as a team to achieve the goal set in common minimum programme.  
"PDP and BJP have decided to join consciously and with conviction to come together to bring the state out of uncertainty and put it on the path of peace and prosperity which have been evading the state for long." He expressed hope that all the Ministers would focus on the problems of the people of entire state besides concentrating on their own constituencies.