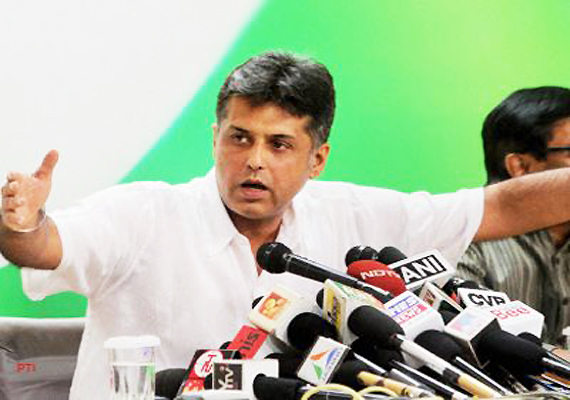 New Delhi, Mar 9: Amidst talk of mid-term Lok Sabha poll following Congress' poor show in Assembly elections, Congress today sought to reach out to allies by expressing readiness to walk the extra mile to strenghten coordination with them.

Ahead of the budget session of Parliament beginning next week, party spokesman Manish Tewari declared "if at all there is a need to further energise that communication (with the allies), Congress is always ready to walk the extra mile."

His remarks at the AICC briefing came close on the heels of Railway Minister and senior Trinamool Congress leader Dinesh Trivedi speaking about mid-term polls and dubbing the union goverment as lame duck in the wake of the polls.

After his remarks caused a flutter in political circles, Dwivedi undertook a damage control exercise.

Tewari's remarks came in response was to a question whether Congress felt the need for a UPA coordination committee for better relations with allies in the wake of the poll results.

He noted all UPA allies are represented in the union cabinet and that there is already regular interaction with them. He said government was stable and will complete its full term.

"Budget cannot and should not be held hostage to political expediencey., Budget and other attendent legislations are extremely critical for growth and progress of the nation.

"Where the question of larger national interest arises, there is a need to rise above political and partisan things", he said.

Congress President Sonia Gandhi had spoken in a similar vein just after the assembly poll verdict expressing the hope that allies and the opposition will support the people-oriented measures and government will regularly interact with allies.

Tewari, however, refused to comment on the Railway Minister's remark on mid-term polls saying the minister has clarified on it, after which there is no need for Congress to comment on it.

Asked whether Congress' defeat in states will affect the government at the Centre, he said "I think there are take aways from every electoral cycle. Our performance was not up to our expectations but unnecessary extrapolation is not essential. UPA government is strong and stable."

Maintaining that the central government has been given a mandate to rule for five years and will complete its mandate, he also took a jibe at the opposition parties.

"Those who in past have repeatedly pointed fingers at us for destabilising state governments should look at their conduct," Tewari said.

A senior party leader, speaking separately on condition of anonymity, said the assembly poll results showed the resurgence of regional parties is a reality which Congress has to live with.

The leader at the same time downplayed the talks of mid-term poll saying no party including the BJP wants elections right now.

He said UPA allies like NCP and DMK or BSP supporting it from outside will not like an election in existing circumstances and such a possibility will not arise.

Asked about the Lokpal bill, which could not be passed in Rajya Sabha due to opposition by Trinamool Congress and the Opposition, Tewari said though Congress does not have full majority in the Upper House it was hopeful that the Opposition will support the bill if it is serious in fighting corruption.

He indicated the government could try to pass the bill in Rajya Sabha in the coming session saying "we want to pass it as soon as possible".