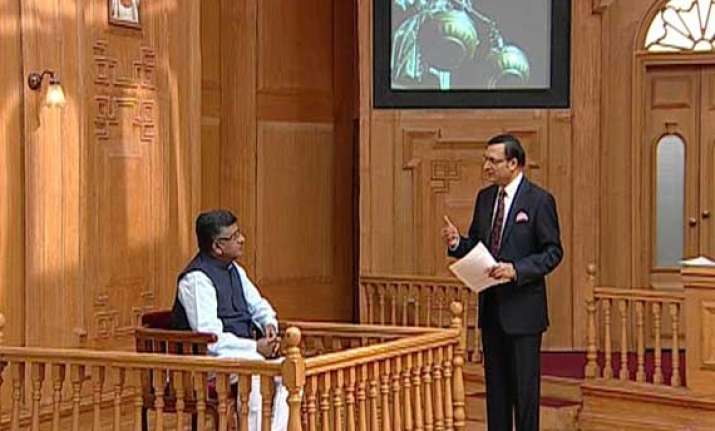 New Delhi : Union Law Minister Ravi Shankar Prasad today said the government is planning to bring a Constitutional amendment bill to set up the National Judicial Commission which will look into appointment of judges, replacing the current collegium of Supreme Court judges.
Replying to questions in Rajat Sharma's show Aap Ki Adalat, to be telecast tonight on India TV, Prasad said, the Supreme Court collegium system was introduced way back in 1993.
"Several eminent judges, including the late Chief Justice J S Verma had questioned the working of SC collegium system. Even the Law Commission chairman had said the collegium system should be debated. Our party had promised to bring the National Judicial Commission in its election manifesto.
"We want to bring the National Judicial Commission in which both the judiciary and executive will be present, but the judiciary will have an upper hand. We will bring the Constitutional amendment bill in an objective manner. The previous government had brought the  bill, but there were infirmities in it, and it lapsed."
Asked by Rajat Sharma whether the NDA government was seeking to exercise control over the judiciary, the Law Minister said: "Never. We were among those who went to jail during the JP movement, and had opposed Emergency.
"We want the judiciary to be independent. There has been considerable debate over the National Judicial Commission, and several eminent former judges feel that the present SC collegium system should change."
The Law Minister's remarks come in the wake of the Gopal Subramanium controversy, in which the eminent lawyer had withdrawn his name from the race for SC judges, and the Chief Justice of India Justice RM Lodha had later  stated that Subramanium's segregation was "unilaterally done by the executive which was not proper."
Replying to questions, Law Minister Prasad firmly said, the government has the right to give its opinion in the appointment of judges.
"We gave our opinion based on facts, evidences and reasons (in Subramanium's case). If we get five, or say, three names, and we object to one of them, there will be segregation. We have the right to request a review, and the Hon'ble Supreme Court has also given its verdict on this."
Prasad disclosed that the NDA government was thinking of bringing a National Litigation Policy to dispose of the large number of pending cases.
"There are 3 crore case pending in India right now, out of which 2.68 crore cases are pending in lower courts. Of them, cheque bouncing cases number nearly 22 lakhs, while traffic challan cases number around 18 lakhs. These cases can easily be disposed of in Lok Adalats."
The Law Minister said, his ministry has decided to hike the number of High Court judges posts by 20 per cent.
"Five states have sent their consent, and we have asked the remaining states to prioritize. There are nearly 200 posts of High Court judges  vacant and nearly 4,000 posts of judges vacant in subordinate courts."
"I have also written a letter to the Chief Justice of India to fast-track all cases involving elderly persons, females, physically handicapped and children.
"I have also written to the Law Commission to prepare a list of old, archaic laws that need to be repealed."
When Rajat Sharma pointed out that the Supreme Court worked 153 days and High Courts work 210 days in a year in India, compared to only 24 holidays in the UK, the Law Minister said, it was up to the full bench of Supreme Court to decide, as the executive had no role in it.  
Prasad, who also holds the Telecom portfolio, said there has been a tendency of late among the bureaucrats to shift the onus of taking major controversial decisions to the judiciary.
"I noticed this in the Telecom ministry. Officials working there appeared to be quite disturbed. I had to assure them that under the new dispensation, they were free to take honest decisions without fear and the government would stand behind them."
Prasad ruled out political witch-hunting against the Congress, saying "Our government will not work with prejudice against our rivals, and there shall be no victimization of the kind as was done by the previous government against our leader Modi ji in Snoopsgate and other cases. Our government's heart is larger, but, if there is any wrongdoing and violation of law, the law of the land will take its own course."
Asked by Rajat Sharma about Income Tax notices being sent to the Congress leaders in the National Herald case, Prasad said, "sending ncome tax notices are routine. These are normally sent to taxpayers. Whatever (Subramanian) Swamy did, the BJP had no role in it. He is pro-active on his own."
When it was pointed out that the BJP had created a video titled "Damaadshree" against Robert Vadra during the elections, the Law Minister said, "That was to counter Congress allegations about the Gujarat model. We then questioned the Vadra model, where an individual investing a few lakhs can amass properties worth Rs 300 crores within one and a half years."
On pricerise, Prasad appealed to the people to show patience. "Our one-month old government is facing inflation created over the last five years. We have brought onion and potato under the purview of Essential Commodities Act, fixed stock limits and are taking action against hoarders. There is no shortage of foodgrains, and even if there is shortage, we will import.
"Vajpayee government had curbed inflation, and Modi government will definitely bring pricerise under control."
The Law Minister pointed out that the railway fare hike was done by the previous government in its interim rail budget in February, and it left it  for the NDA government to implement, "because they knew they were not going to return to power".
Aap Ki Adalat
with
Ravi Shankar Prasad
will be telecast
tonight (Saturday, July 5)
at
10 pm
on
India TV
, and the repeat telecast will be on
Sunday at 10 am and 10 pm
.