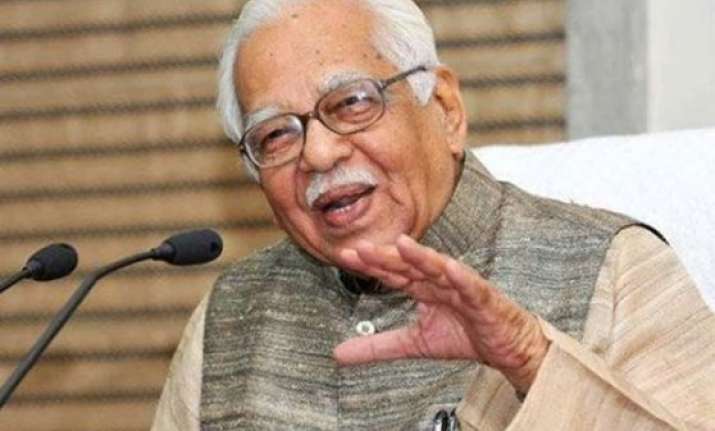 Lucknow: Uttar Pradesh Governor Ram Naik's remark that there is a need to improve law and order in the state riled ruling Samajwadi Party which hit back accusing him of trying act like an 'extra constitutional authority' and threatening to launch an offensive against him.
On his views on the law and order situation in the state, the Governor said, "I have talked to the Chief Minister time and again and when necessary written letters and from his side it has been said that efforts of all kinds are on to improve it."
Asked whether he was satisfied with the efforts of the government, he said, "This is one subject in which it is not like work done in a laboratory. He will have to work continuously ...I must also add that in other states also there is a need to improve law and order situation."
Naik was interacting with the media while presenting a report of the three months of his works as Governor.
Apparently unfazed by the Samajwadi Party's passing a resolution on constitutional limitations of Governors at its meeting earlier this month, Naik said it is his duty to provide all information to the people which was permitted under the RTI Act.
To a question on Samajwadi Party's resolution, the Governor said "...the ruling SP made some references to me which I read in newspapers ....probably, it is a political comment and I will not say anything beyond this."
"The Governor is meant for ensuring that the state government works according to the Constitution ...these are the days of the RTI and under that Act.... I think it is my responsibility to make available all information on my own inspiration.. it is also in states's interest...," Naik said.
Stressing that dialogue is an important part of democracy, Naik, citing an example, said in case an ordinance is sent to him for approval he needs to tell the government as well as the people what he is doing with it or else people will think it is lying with the Raj Bhawan.
"Dialogue is an effective tool in democacy and I am doing it.. this is what I feel," the Governor said.
Samajwadi Party general secretary Naresh Agarwal attacked Naik advising him to remain within his constitutional limit otherwise the party was ready for 'hulla bol' (offensive) against him.