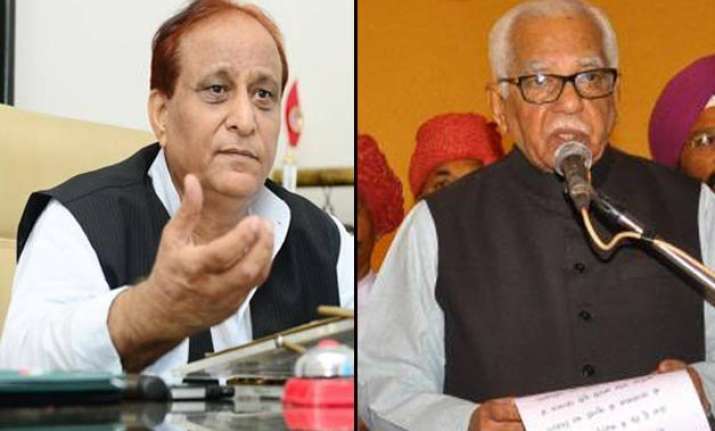 Rampur(UP): Uttar Pradesh Minister Azam Khan today said Governor Ram Naik's direction to stop national anthem mid-way during a ceremony in Lucknow should be deemed as an insult to the national flag, Constitution and also to the country.
"It is not proper to comment on Raj Bhawan, but the signals coming out from the Bhawan are not up to the mark and pinches the hearts and minds of patriots," the minister said.
Governor Naik today ordered stopping of national anthem mid-way as it was being played during the end of the oath taking function for ministers at Raj Bhawan.
As the national anthem was being played at the end of the event, Naik waved at his staff indicating that Jana Gana Mana be stopped and even verbally instructed his personnel to do so as he wanted to take up a pledge of national unity to mark the National Integration Day on the birth anniversary of Sardar Vallabhbhai Patel.
Questioning the move, Azam said,"Recitation of national anthem on the said occasion was hindered in between at the instance of the Governor for birthday ceremony of Sardar Vallabhbhai Patel. That must be deemed as an insult to Rashtra Dhwaj(national flag), Samvidhan (Constitution) and Rastra (country) as well."
The senior Samajwadi Party leader alleged the incident indicates that RSS was keen to offer coveted posts to the persons who would not hesitate to insult even the Constitution, national flag and national anthem.
Azam also attacked BJP president Amit Shah for saying that if BJP was defeated in Bihar crackers would be burst in Pakistan.
"Does it not mean that BJP disbelieves Muslims while PM Modi himself offers Malihabadi mangoes, shawls etc to his counterpart Nawaz Sharif and his family members," he asked.