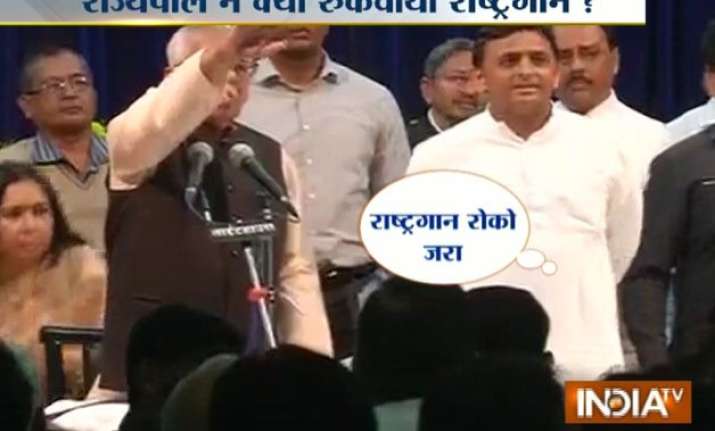 Lucknow: Uttar Pradesh Governor Ram Naik today courted controversy after he stopped the national anthem midway at the Raj Bhavan here.
After swearing-in ceremony of newly inducted ministers in Akhilesh Yadav's Cabinet, the host asked for the Governor's nod to conclude the event. Naik gave go ahead signal after which the Raj Bhavan band started playing the national anthem.
However, the governor waved his hand instructing officials to stop the band from playing national anthem. But till then it was too late as the band had finished it.
Amid confusion, Naik administered the oath of national unity on the occasion of the 140th birth anniversary of Sardar Vallabhbhai Patel.
After this the band once again was asked to play the national anthem.
Notably, Under the Prevention of Insults to National Honour Act, 1971, whoever intentionally prevents the singing of the Jana Gana Mana or causes disturbances to any assembly engaged in such singing shall be punished with imprisonment for a term, which may extend to three years, or with fine, or with both.
Scroll down to watch the video: