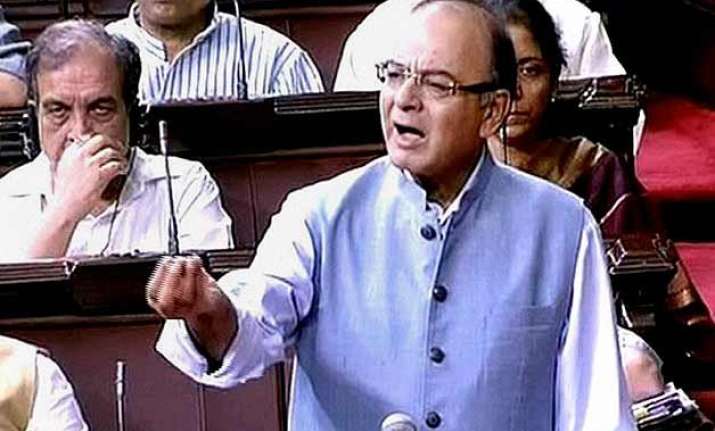 New Delhi: Rajya Sabha failed to transact any significant business today on the first day of the Monsoon session as opposition pressed for resignation of External Affairs Minister Sushma Swaraj as also Chief Ministers of Rajasthan and Madhya Pradesh over various controversies.
While Lok Sabha was adjourned immediately after it met for the day as a mark of tribute to a sitting member who passed away recently, Rajya Sabha saw repeated adjournments with opposition members creating uproar, including by trooping into the Well of the House.
The government maintained that it was ready to discuss the controversy related to Lalit Modi in which Swaraj and Raje are under attack, the opposition insisted on resignations before any debate could be taken up in the House.
Amid war of words and slogan-shouting by Congress members in the Well of the House, BJP accused the opposition of "running away" from a debate.
Trouble started as soon as the Upper House met for the day and obituary references were made, with Anand Sharma of Congress raising the matter related to Lalit Modi controversy and demanded a reply from Prime Minister Narendra Modi.
Swaraj and Rajasthan Chief Minister Vasundhara Raje are under attack for their links with Lalit Modi, the former IPL Chairman who is being investigated by the Enforcement Directorate in an alleged money laundering case.
Sharma asked why Swaraj had requested British government to issue travel documents to Lalit Modi two and a half months after NDA came to power in June last year.
Sharma also raised the issue of affidavit signed by Raje favouring Lalit Modi."The Prime Minister had assured to ensure transparency, accountability in governance and acting against those indulging in corrupt practices... Where is the probity left?  You have violated the dignity," he said.
Amid objections from the treasury benches to his remarks, Congress members trooped into the Well of the House.
Congress was joined by CPI(M) and Samajwadi Party in its demand for resignations, leading to uproar and five adjournments till 3 PM, when the House was adjourned for the day.
In the midst of pandemonium, Finance Minister Arun Jaitley withdrew (rpt) withdrew the Negotiable Instruments (Amendment) Bill, over which the government had issued an Ordinance in June.