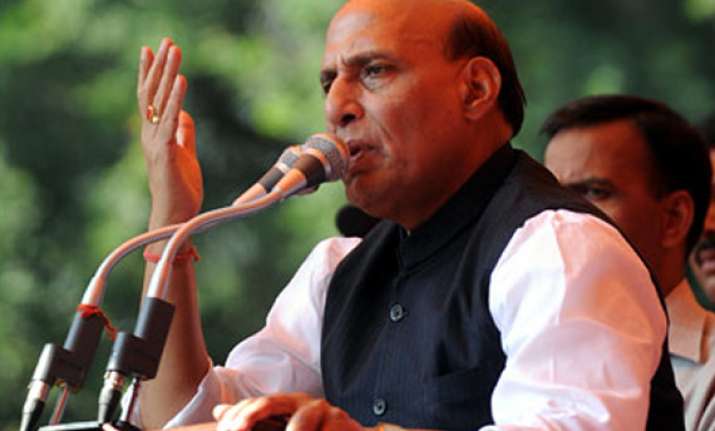 New Delhi, Aug 4: BJP president Rajnath Singh Saturday took a dig at Prime Minister Manmohan Singh over Congress president Sonia Gandhi writing to him to ensure fair treatment to suspended IAS officer Durga Shakti Nagpal, saying he should have acted on his own.
He demanded that suspension of the officer should be revoked.
Speaking to media on sidelines of a Teej function held at his residence here, the Bharatiya Janata Party (BJP) chief said prime minister should have intervened on his own following suspension of the officer by the Uttar Pradesh government.
"There should not have been need of a letter," Rajnath Singh told IANS.
Gandhi had written to the prime minister saying that central government should ensure that the official is not unfairly treated.
Earlier in his speech, Rajnath Singh referred to the officer's suspension and asked the Akhilesh Yadav government to revoke it.
He said the officer was doing her duty and was suspended under pressure from vested interests.
"I feel that the step has led to demoralisation of honest officers," he said.
He said the entire country was condemning suspension of Nagpal.
"Those involved in her suspension should be punished," he said.
Nagpal, who took on the sand mining mafia in Greater Noida (Gautam Budh Nagar), was suspended July 28.
The UP government has said that she was suspended for ordering demolition of a wall of a religious place in Noida.
Rajnath Singh also attacked the government over price rise and said it had failed to ensure adequate steps for protection of women.
"Women do not feel secure in Delhi. This is a matter of concern," he said.
"When our government comes back we will ensure adequate steps for protection of women," he said.
BJP leader Ravi Shankar Prasad and several party leaders from Delhi attended the Teej function organised by the Delhi Study Group.