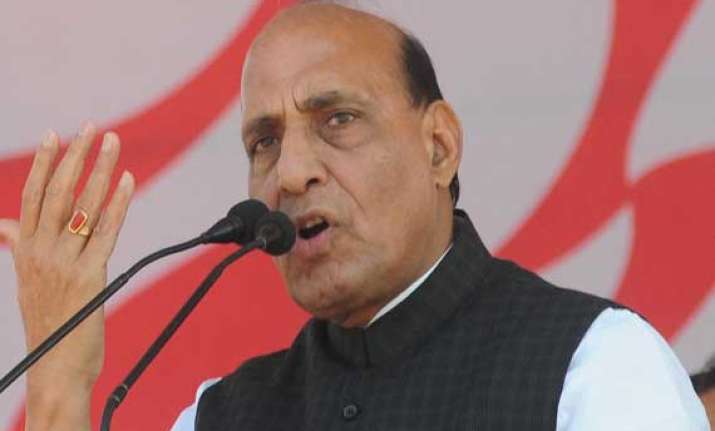 Ranchi: Two emissaries of BJP President and Union Home Minister Rajnath Singh today met jailed party leader Yashwant Sinha and appealed to him to obtain bail and participate in a statewide stir being chalked out by the party's Jharkhand unit.
"Sent by Rajnath Singh on a special visit to Hazaribagh, we met Yashwant Sinha in the jail and appealed to him to come out and participate in the next phase statewide agitation (beginning June 16) in protest against electricity shortage,deteriorating law and order and a situation of anarchy prevailing in Jharkhand," BJP General Secretary Rajiv Pratap Rudy told reporters.
BJP national spokesman Shahnawaz Hussain, Rajnath Singh's other representative, was also present at the joint press conference here.
"We believe Yashwant Sinha's step is justified as the people are reeling under power crisis in the scorching summer and the state government has become ineffective in dealing with problems," Rudy added.
On the alleged assault of a government official during the June 2 agitation led by Sinha in Hazaribagh over a power crisis, Rudy said the former external affairs minister was not at that spot and had been appealing to the workers for restraint during the stir.
Hussain said Sinha had controlled the situation and saved the JSEB officials on June 2. Had he not been there, the situation could have snowballed, he added.
Sinha had on June 2 admitted before the media that he had asked the women to tie up JSEB's Hazaribagh branch GM Dhanesh Jha as women were the worst sufferers in the power crisis.
Sinha, who along with several other BJP supporters were sent to 14 day's judicial custody on June 3 following their arrest in connection with the case, has since refused to move bail petition.
Hussain dismissed any comparison between Arvind Kejriwal's jailing and Sinha's judicial remand saying Kejriwal went to jail as he failed to produce evidence on a defamation case while Sinha is in judicial custody in connection with a demonstration.