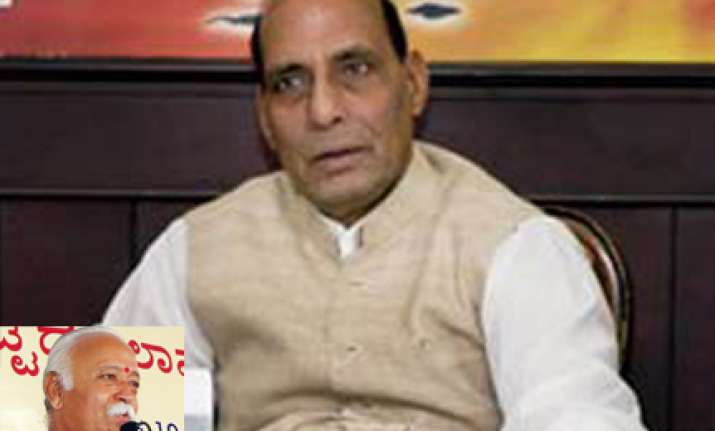 BJP president Rajnath Singh on Thursday in New Delhi met RSS chief Mohan Bhagwat and is understood to have discussed the escalating internal squabbles plaguing the party.
Singh called on Bhagwat on Thursday evening and held a nearly 90-minute discussion with the RSS chief.
The issues raised by senior party leader Arun Shourie and Jaswant Singh's controversial book on M A Jinnah and his subsequent from BJP expulsion were also understood to have come up for discussion.
Singh also briefed Bhagwat on the deliberations that took place during BJP's 'chintan baithak' in Shimla last week.
The BJP chief had earlier this week discussed the Shimla meeting with RSS secretary Suresh Soni.
Another senior BJP leader Murli Manohar Joshi had held an hour-long meeting with Bhagwat on Wednesday.
Bhagwat, who took over as RSS chief earlier this year, is likely to announce RSS' future plans including its expansion at a press conference on Friday.
He may express his views on contentious issues facing BJP like the need for a younger leadership, and the significance of ideology for the party.
Senior BJP leader L K Advani had met Bhagwat earlier this month in which the current political situation and the party's performance in the budget session of Parliament were discussed.