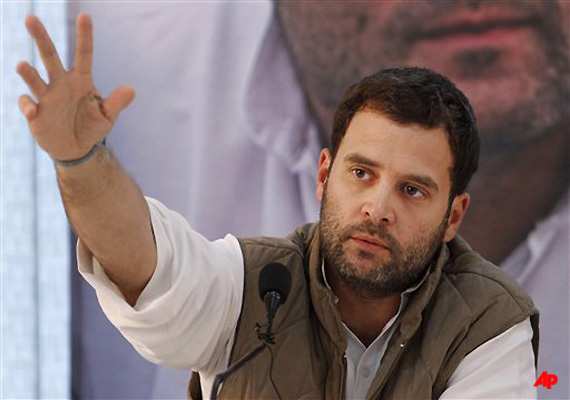 Lucknow/Unnao, Feb 15: Accusing BSP and SP of making "only promises", Congress leader Rahul Gandhi today tore a piece of paper at an election meeting to drive home the point that "mere lists" of assurances were of no use. 

"They promise that they will give power, water, employment and if not employment then unemployment allowance...this is mere list of assurances...," he said at an election meeting and tore a paper it to stress his point.

"Did you understand," he asked, referring to his act of tearing the paper, and said "only promises will not do".  He then charged BSP chief Mayawati and SP supremo Mulayam Singh Yadav with not honouring their commitments made in the past.

Addressing his first election meeting in Lucknow, Rahul who appeared to be in combative mood, said leaders who have been fighting against corruption "could not see corruption in Karnataka, UP or that of Babu Singh Kushwaha and Mayawati."

Kushwaha, a former Family Welfare minister in Mayawati government who is an accused in the multi-crore NRHM scam, was recently inducted in BJP.

Asserting that thousands of crores of rupees have been provided for Lucknow under the JNNURM, Rahul and asked the people to question their chief minister as to where it has gone.

Stressing that he has not come to the people with only promises, Rahul said people should go and listen to leaders of BJP, BSP and SP and make up their mind and if they wanted to change the state, they should back Congress. 

He said Congress was fighting the elections in the state not for the sake of seats, but for the future of the people and the youth.

Rahul said people in Uttar Pradesh have developed the habit of seeing governments come and go. 

"BJP came and sought votes in the name of Lord Ram but people got nothing ... SP and BSP came and sought votes on caste lines...you supported them but nothing happened," he told the electorate.

The Congress leader said though the country was marching ahead, UP was lagging behind. "UP is standing still," he remarked.

"It is your loss and not that of your leader as he has everything," he said, asking people to visit states ruled by Congress and see how the government was functioning there. 

Earlier, in Unnao, he said heavy voter turnout in the ongoing polls indicated that the youths were supporting the Congress.

"Youth are supporting the Congress all over the state and this is the reason behind the voter turnout touching 60 to 65 per cent," an elated Rahul said.

Appealing to the electorate to give five years to his party to usher in all round development, he said both the hands (government at the Centre and state) were required for speedy progress.

"Both hands are required for doing work...there is a government at the Centre and only one hand is working...give us government in UP and both hands would work," he said. 

Lashing out at Mayawati and Mulayam Singh Yadav, he said the BSP supremo has been chief minister four times and the SP leader three times. "If they return to power they will again make promises but do nothing," he added.