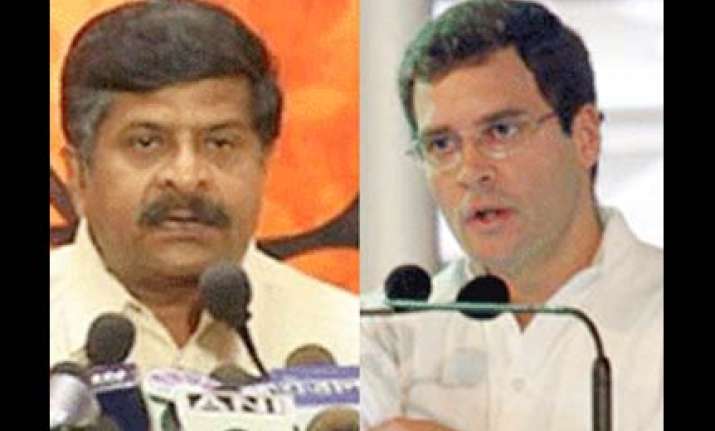 New Delhi, Oct 16: Taking a dig at Rahul Gandhi, BJP today said it will not criticise the Congress general secretary as "he is still learning and speaks what his team tells him to do" but took exception to Prime Minister Manmohan Singh calling the NDA government in Bihar a failure.
"I do not want to say anything against Rahul Gandhi as he speaks what his team tells him to. If his team did not do its homework properly, it is not Rahul Gandhi's fault. But the prime minister is a renowned economist and he should not make such statements," BJP chief spokesperson Ravi Shankar Prasad said.
He was speaking to reporters about the statements of Rahul and Singh in Congress election rallies in Bihar on the failures of the JD(U)-BJP government in Bihar.
Prasad said Bihar Chief Minister Nitish Kumar has been declared one of the best chief ministers on parameters of development by various government agencies, including the Planning Commission and Indian Statistical Institute.
"Rahul is still learning so I would not say anything. But the prime minister is answerable. Mr Prime Minister, you should explain who is speaking the truth. You or the Planning Commission? You or the Indian Statistical Institute," Prasad asked.
The Rajya Sabha MP alleged that Congress was equally responsible for 15 years of "misrule" by RJD chief Lalu Prasad as the two parties have been allies since 1991.
"The Rabri Devi government had 22 Congress members as ministers. Congress has been party to the fodder scam and the bitumen scam in Bihar. Congress is guilty not only of a conspiracy of silence but also of willing assistance," Prasad insisted.
The senior BJP leader alleged that the UPA government had meted out "step-motherly" treatment to the NDA regime in Bihar.
"Central assistance to states is given under well-laid norms like the Gadgil formula. But the Central government has given step-motherly treatment to non-UPA governments. During the Kosi floods, the prime minister visited the state and said it was a natural calamity but hardly any funds were provided," Prasad said. PTI