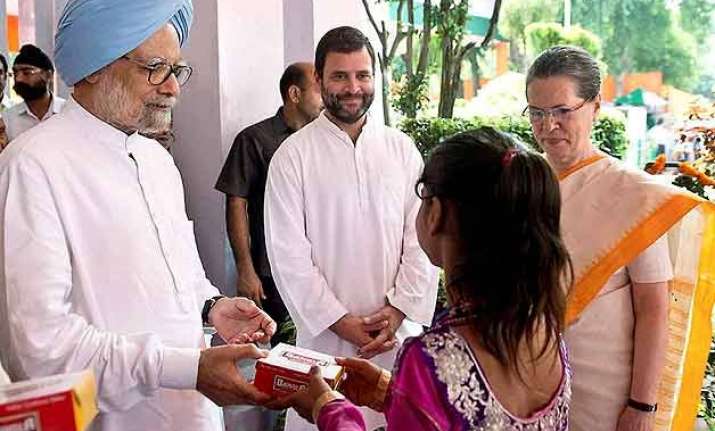 New Delhi: Congress on Saturday slammed Prime Minister Narendra Modi's Independence Day speech, saying he omitted many key issues like terrorism and foreign policy and disappointed ex-servicemen on OROP, though the party's top leadership did not make any comment.
Congress President Sonia Gandhi, who unfurled the national flag at the AICC headquarters, refrained from making any comment on Modi's address. Party vice-president Rahul Gandhi, who has been unrelenting in his attacks on Modi on various issues including corruption and land bill, said it was "not a day for politics", leaving it to the next line of leaders to launch the offencive.
"Today is not a day of politics. We will talk tomorrow," Rahul merely said to queries by reporters.
Other Congress leaders, however, alleged that the schemes enumerated by the Prime Minister in his speech from Red Fort were those started during UPA government and accused him of having different definitions of corruption, one for political opponents and the other for his own leaders.
"What new thing has he stated? He has talked of two-three schemes, but I am sorry to say that those schemes were started by the Congress party during the UPA government," said Leader of Opposition in Rajya Sabha Ghulam Nabi Azad.
Congress leader Ambika Sonia questioned the Prime Minister for "remaining silent all along on corruption by his Ministers".
"We kept asking that if you want to break the logjam in Rajya Sabha, let the Prime Minister come and explain the steps he is planning to take or he has taken on the corruption scams which centred around Lalit Modi and disclosures which came on it and Vyapam. He did not show up there and has not opened his mouth.
"Suddenly on August 15 he says there is no corruption. Nobody is going to believe him," she said.
She also questioned why he did not talk about terrorism or express sorrow at the death of innocent people in Gurdaspur and Udhampur terror attacks.