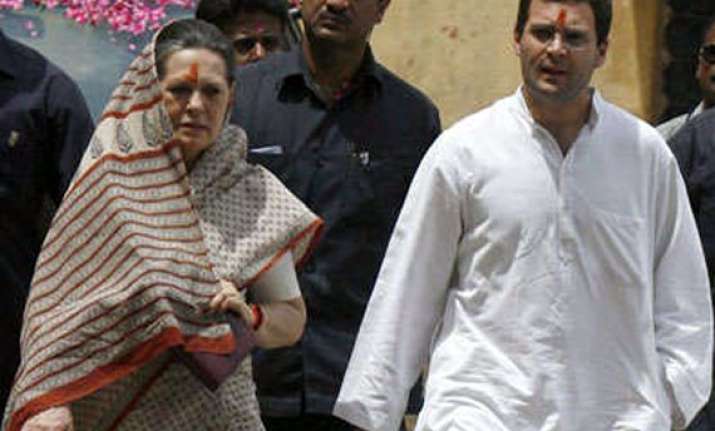 New Delhi, Nov 13: While Rahul Gandhi has raised the issue of corruption during the course of the current Lok Sabha, Congress President Sonia Gandhi has not brought it up.  This has been stated by Lok Sabha Secretariat in reply to an RTI application on whether the two leaders had raised issues relating to corruption, black money and empowerment of the judiciary, filling up of vacant judicial posts, further empowerment of RTI Act and that of investigation agencies and commissions, among others.

"As regards information pertaining to the number of times Sonia Gandhi and Rahul Gandhi, MPs, demanded for information relating to corruption (part of query No. 3) and empowerment of investigation agencies (part of query No. 4), it may be stated that Rahul Gandhi has raised an issue during 'Zero Hour' on 26 August, 2011 regarding need to frame a set of effective law to combat corruption and empowerment of investigation agencies as well.

"However, Sonia Gandhi has never raised any issue mentioned at both query Nos. 3 and 4.... during the 15th Lok Sabha," the Lok Sabha Secretariat said giving information under the RTI Act.

While query No. 3 related to the issues of corruption and return of black money stashed away abroad, query No. 4 WAS ON various matters about the judiciary and empowerment of investigation agencies and commissions.

The reply said the Table Office dealt with information pertaining to matters of urgent public importance raised after Question Hour, i.e., Zero Hour, matters under Rule 377 and Calling Attention and Adjournment Motions.

In reply to another question, the Secretariat said Sonia Gandhi has so far neither participated in any of international official events nor has she ever been part of any Indian Parliamentary delegation going abroad under bilateral exchange between 2009 and 2011.

It also said that neither Sonia nor Rahul had committed any breach of privilege of the House by misleading the people through the Land Acquisition Bill.

The RTI application, which contained 15 questions, had been filed by a Delhi-based activist Gopal Prasad.  The Secretariat said while Sonia is not a member of any of the Parliamentary Committees, Rahul, at present, is a member of the Pariamentary Committee on Human Resource Development.