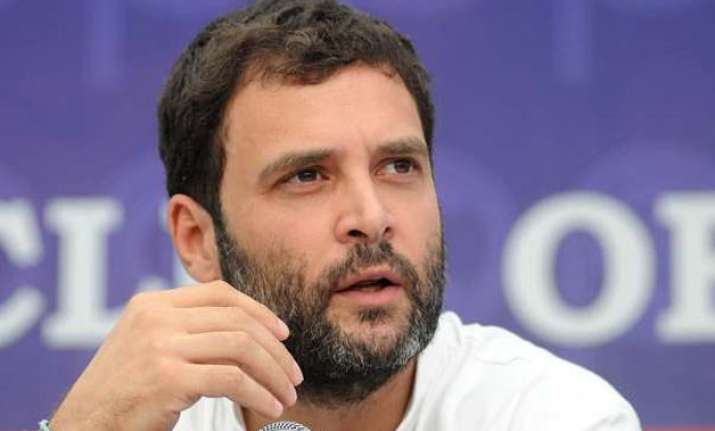 Anantpur:  Making a strong pitch for grant of special category status to Andhra Pradesh,Congress Vice President Rahul Gandhi on Friday said the state government and opposition party YSR Congress were not doing enough to pressure the Centre on this issue.
"I would like to see special status for Andhra Pradesh and for Polavaram. Andhra Pradesh deserves special status, which is its right to get it...It's owed to the people of AP. With special status, AP can be number one state. We have provided for that (in the AP Reorganisation Act of 2014)," he told reporters at Puttaparti town in Anantpur district.
"It's very sad...I don't understand why (YSRC chief) Jagan (Mohan Reddy), (Andhra Pradesh Chief Minister N Chandrababu) Naidu are not pressurising the Centre (on the special status issue). It's key to AP. It's future of AP", he said.
He, however, added that the BJP has ability to "pressurise" them (TDP and YSRC). "That's sad...it (BJP) has a powerful lever to pressurise TDP and YSRC," Rahul said.
"I would recommend Naidu and Jagan to push aggressively on this...BJP is in power why it has not been done? (why special status was not operationalised)." Rahul said he takes the issue "seriously" and would raise it in Parliament.
He also said bifurcation of united Andhra Pradesh last year was a unanimous decision by all parties including TDP, YSRC, Congress and BJP.
"Everybody supported that agreement. Post bifurcation, the same people (those protesting the division later) made a turn-around," he said.
On senior leaders like Botsa Satyanarayana and D Srinivas joining other parties, he said, "They are real opportunists. Congress is an idea...way of thinking...we will revive that idea, project that idea".
On Friday, while addressing a gathering at a village in Anantapur district, Rahul hit out at the NDA government for not granting special category status to AP as promised by the UPA government at the time of bifurcation last year.
"Through special status, people of Andhra will get thousands of crores of rupees.
Andhra Pradesh will go ahead of all states. We are not afraid of Modiji. May be, Chandrababu Naidu and Jagan (Mohan) Reddy (YSRC Congress chief) are afraid of Modi, but Congress is not. Congress will fight your battle for special status," he said.